Our reader Anie bumped into Rob in NYC. Here is her cute encounter and pictures :))
HQs:



Well my history is pretty lame. I came to NY for 26 days and before gettin' here I read on your blog that he was going to be here, and I was like WOW, what a coincidence. I also found a site where people post the locations of remember me and I went to where the location of the day before was post, but there were no one. My friend that came with me almost killed me because we're staying in Manhattan and the location was in Queens. So I gave up and was all frustrated.

Then last Saturday we went out to a Hukkah bar and when we were going back to our hotel I saw him with some friends (a guy and two girls)!!! My friend was like oh it's him, he's really handsome! He walked past some bars and no one asked him for a picture or anything, so I was getting nervous, and my friend was tired, so she told me to go ahead and stayed behind. He finally stopped outside a bar and I saw my moment and asked him for a picture. He said yes, and since my friend hasn't arrived yet I asked him if he could take the picture and he said yes again. He took it and put his pretty finger on the flash :)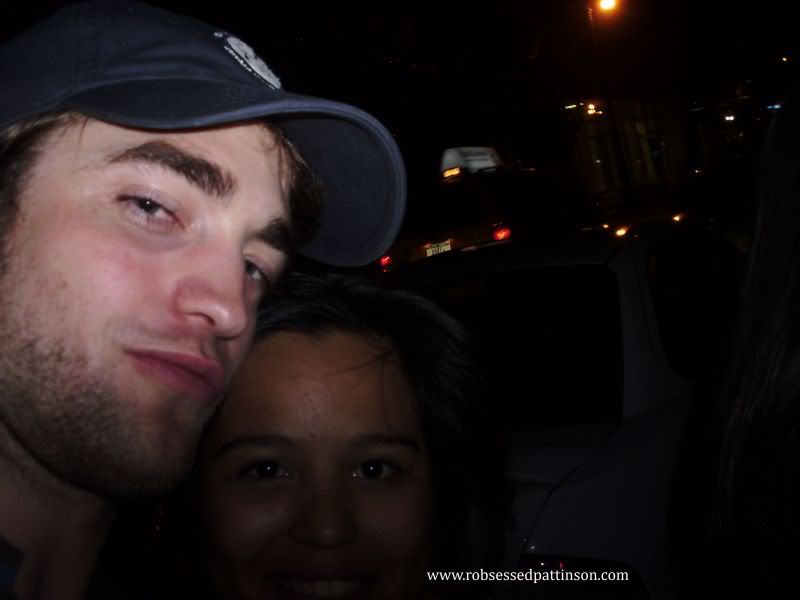 Then he asked me if the picture was ok and I mumbled :) (
Gozde: I think the picture is more than okay. The look is in the "Oh Hot DAMN!" category :)
)
Then my friend finally arrived, and I gave her the camera and she took another picture: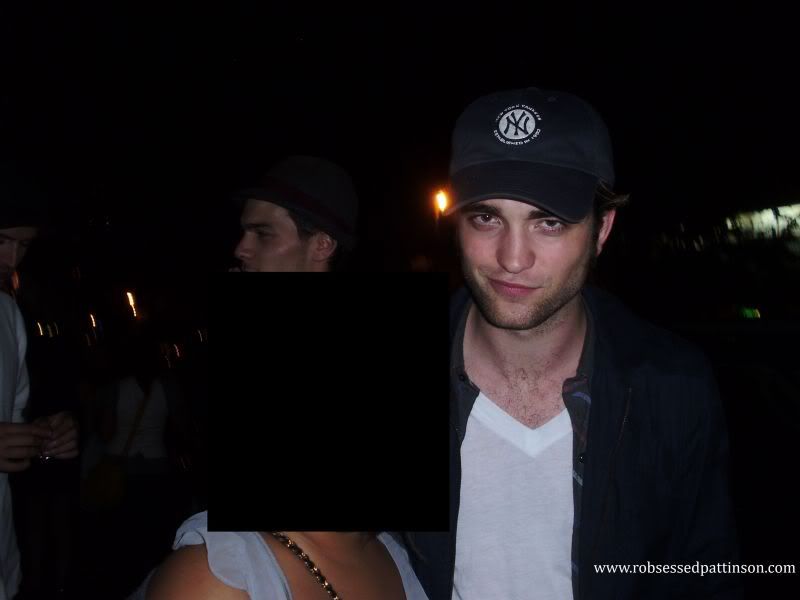 Then she handed the camera to a weird guy and she was like I want a picture too! I have to admit I thought about moving but instead I stayed in the picture haha :) Then my friend told Rob "she loves you", and he laughed (typical, men laughing at my feelings) (
Gozde: Awww, sweetie :
).
Then the weird guy who took our photo told us to take a picture with him and grabbed Rob's hand or jacket I'm not even sure. It was pretty disturbing and we were like "why would we want a picture with you?" and Rob was all like "what's happening?" And suddenly we started to almost run out of the place because of the weird guy and we like didn't even thank Robert Thomas! So yes, I was very ungrateful and I'm really sorry for that.
Lots of love, I'd like to tell him I'm sorry, even if he doesn't REMEMBER ME ha! His movie :) Sorry sorry bad joke. But I do love you guys!, thanks for being with me in my Robsession!
Gozde: So cute :) And the ending is epic. Fan takes a picture and runs away :))