That is good make up! I want to bandage him up.

Thanks to
Just Jared
and
source
for the pictures and
CarinaOlsen
for the tip :)
Photos: INFdaily

Also according to Tonic Gossip Remember Me is shooting longer than the scheduled time. They blame papz and fans:

According to reports, filming for Robert Pattinson's new film "Remember Me" has wrapped up Friday. If the reports are true, Pattinson will be in San Diego this week for the Comic-Con with her on-screen lover Kristen Stewart.
Some sources are saying that the filming of "Remember Me" wasn't able to fulfill its original plan of a 35-day shoot (excluding weekends). Execs of Summit Entertainment has said that Rob will show up at the Comic-Con, but he could be pulled out of the event anytime since technically, the last day of filming for Remember Me is on August 4th, due to the interruptions of fans and papz in New York.
Once the film has made it to post-production stage, Robert Pattinson will have a two-week break before filming "Eclipse," the third installment in the Twilight Saga, in Vancouver, BC. Summit has announced that Eclipse will begin filming in August 17.
So if you don't see RPattz anywhere from August 5-16, don't be too suprised. (
Gozde: Oh the horror! :)) Hope he'll have some fun. If you want good food, booze and beach I'm at our summer house Rob, come over :)
) He successfully hid from all the mania after the filming of Twilight and he could do it again. That is, if he's not scheduled to meet the cast and crew of his other 2010 film drama "Unbound Captives" or "Bel Ami."
Larger: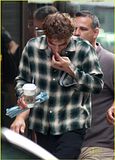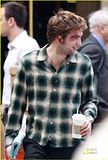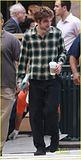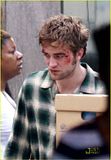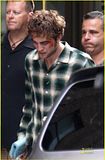 Untagged: