Here is a fan report from last night. Thanks to
tinkrbe1l3
for sending us her account and extremely "revealing" picture :) Seriously, are we this hard up for Rob pix? No, not really. I just like how cute
tinkrbe1l3
was with the "freezing on the spot" :) I think a lot of people will have the same reaction: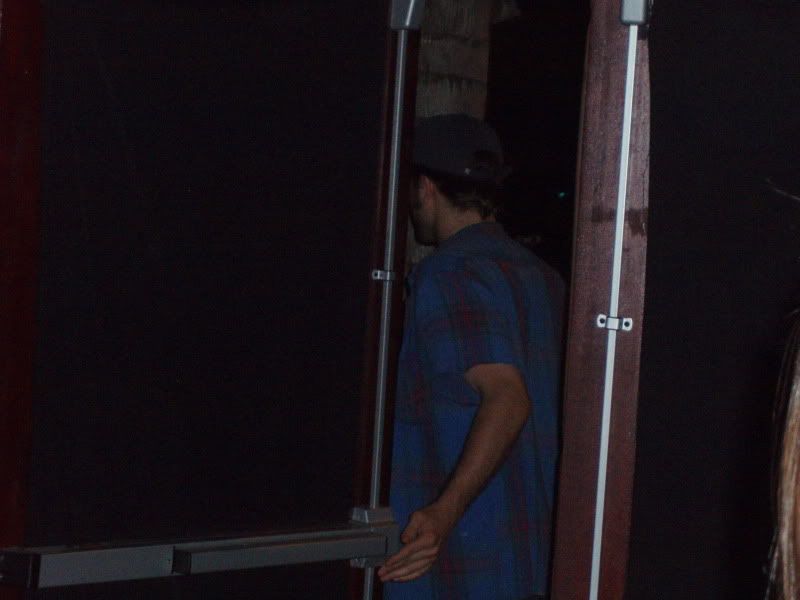 Sooo I wasn't gonna send you guys this because I was ashamed of my inability to take a good pic but since fakerparis posted someone else's back shot, I figured I wouldn't get laughed at too bad LOL. The other sad thing is I couldn't even take the pic. It's my camera but my best friend took it. I was frozen and couldn't move so she took charge. She's not a Rob Mega-fan like I am but she is my best friend and was ready to help me since I was a moron. We both knew when he came in, I was very close to the door and in my peripheral i saw girls heads turn towards the door but I kept looking straight (moron, remember). My bf looked too and said, "I really think he just came in." She'd recognized his jaw from the pics I've shown her lol. So I remained frozen and tried to focus on the show even tho he was five feet from me behind a curtain. I knew we could have left and waited outside to get a shot but I felt it was disrespectful to Marcus and Rob...I was trying
to maintain a level of civility but honestly I bet I wasn't that humane and knew I just physically couldn't move from my spot. My feet were glued to the floor. At the end of Marcus' set, Rob and Co. were still there. The venue tried to protect them by pulling the curtain further out to obscure the view. My bf said, "let's go" but i couldn't move so she left me (wisely) to try and get me a shot. I watched her shift towards the wall near the door they'd exit at. The curtain wouldn't reach the door so the venue folks would have to drop it at some point to let them out. Once the curtain dropped my bf snapped and the result is what I attached. She beat herself up saying, "I coulda gotten you better! I should have gone outside!" but I assured her, for our first time out to an event linked to Rob, we (she) did pretty great. I also showed her some blog posts so she'd know that his shirt and hat were famous (LOL) and I was extremely happy with the pic. And while
I'm a jaw girl, I let her know she got some pretty good fingerporn in the pic too LOL.
Love what u guys do!
tinkrbe1l3
And thanks to
RobPattzNews
for the following ground breaking picture ;))
Rob sitting on stool (No! Really?:)). Woman in yellow (with the killer shoes) is allegedly Stephanie Ritz (Agent) Kristen is allegedly hidden sitting 2 the left and I am allegedly sick of writing allegedly.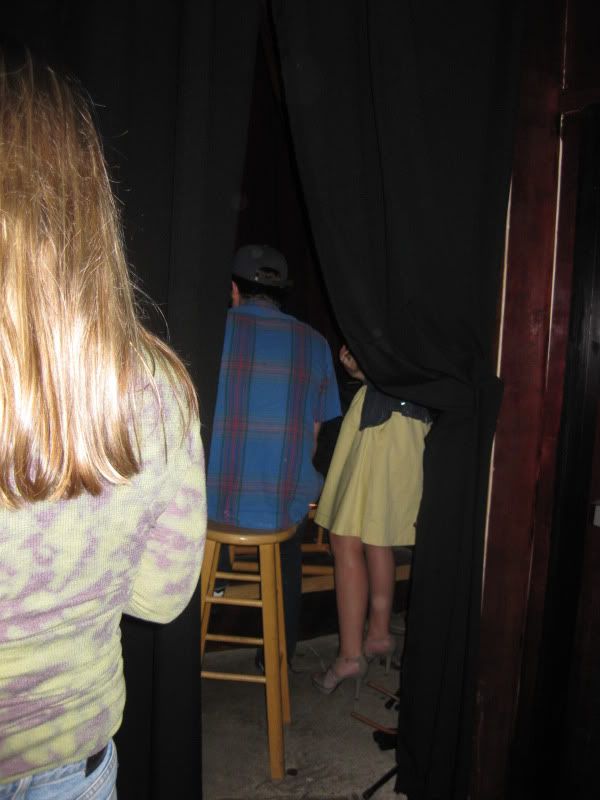 HQs 'cause who WOULDN'T want to see these amazing pictures in HQ? :)
And
click HERE for HQ of RobPattzNews' picture