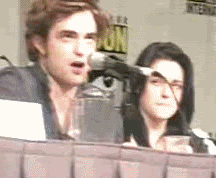 From
VancouverSun.com
:
Robert Pattinson, Kristen Stewart and Taylor Lautner drive Vancouver crazy — Twilight hysteria spills over into Zac attack

Vancouverites used to be indifferent to film stars — then came the Twilhards
VANCOUVER — Hollywood North is on the verge of losing its reputation for cool.
Vancouver has seen stars aplenty since the city graduated into one of North America's film and television centres. A-listers such as Sean Penn and Robert De Niro are seen walking down the street and dining without bodyguards. Heck, Goldie and Kurt felt so comfortable they bought a house here some years ago.
Ben Affleck and Jennifer Garner were molested by paparazzi, but they had a new baby and the public had a right to know what the little tyke looks like. They weren't mobbed by fans, only the working press.
"Celebrities have always felt quite comfortable in Vancouver and that's part of our charm and our competitive advantage," said B.C. Film Commissioner Susan Croome.
History will record that 2009 was the year that everything changed. When filming started last spring on New Moon, the second story in the Twilight saga by author Stephenie Meyer, fans flocked to filming locations in the hundreds, creating unprecedented security headaches for the producers.
Twilight stars Rob Pattinson, Taylor Lautner and Kristen Stewart are back in Vancouver making the third film, Eclipse, until the end of October and the hysteria shows no sign of letting up. The young stars are tracked by fans to their hotel and favourite restaurants and any bars and clubs where they might try to sneak a drink or see a band.
Fans travel from all over North America and as far away as New Zealand to track their vampire heroes in the hope of getting a picture or an autograph. Some have succeeded, many more failed.
Skipped (Zac Efron content, you can read more at
VancouverSun.com
)
The sets for Charlie St. Cloud and Eclipse are closed to the media, so little information is available for fans. The demand for pictures of the stars and any little tidbits of information that can be gleaned by stealth is substantial. Twilight-related stories are huge traffic booster for news and entertainment websites.
Eclipse producers are begging newspaper websites and radio stations outlets in Vancouver not to disclose the filming locations, citing security and safety concerns for both the cast and crew and the fans. (
Gozde: Vancouver sun is one of the main offenders in this! They disclosed many locations before. We don't and we never will post locations.
) For the most part, New Moon and Eclipse have used locations on dead-end streets or remote single access properties that are easily defended. But when urban locations are required, fans are quick to pounce.
Twitter, Facebook and Twilight fansites are constantly updating every rumoured location and star sighting to thousands of hungry Twi-hards at a pace the mainstream media cannot match.
Croome isn't convinced Hollywood North has completely lost its cool.
"I'm not sure that Charlie St. Cloud is quite the same thing as Twilight, not to the point that they have real safety concerns," said Croome. "Twilight is the phenomenon the like of which we have never seen before."
"People aren't flying in to see a star like Zac Efron," she said. (Gozde: OUCH!)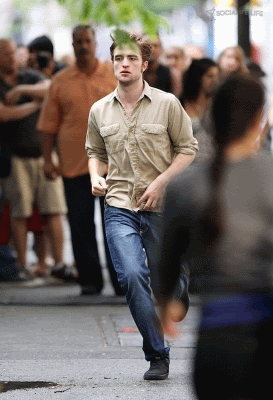 Thanks to
RobPattzNews
for editorial content :)