Another new interview another mention of Rob reading fanfiction :)
Every young girl's fantasy vampire, the actor has to keep himself hidden since the phenomenal success of the Twilight books and film

Lesley White
On a balmy autumn day in Vancouver, a young man is longing for a walk outside in the sunshine, and deciding against it. Far easier for him to stay in his hotel room, cocooned in five-star luxury with a mobile phone that has run out of charge, safe at least from the girls chanting his name outside. Robert Pattinson, 23 and from Barnes in southwest London, ought still to be one of Hollywood's beautiful dreamers, moving up the ranks of movie acting, enjoying his American adventure, his guitar, his good looks. Instead he lives in danger of being trampled in a stampede of teen love. He plays the vampire Edward Cullen in The Twilight Saga, the biggest books-to-screen phenomenon since Harry Potter — in which, by the way, Pattinson was Cedric Diggory, heroic golden boy and victim of Voldermort. Boy, his life has changed since Hogwarts.
In Canada he is shooting Eclipse, the third of Stephenie Meyer's quartet of novels. The second, New Moon, is released this month in a publicity extravaganza that will involve shutting down New York's Times Square. The last time the actor was there, the square was also closed to traffic, for an event only marginally more fascinating to the world: the election victory of Barack Obama. We talk on the phone. Even now, a year after Twilight's release, Pattinson sounds utterly stunned by the hysteria swirling around him.
"It's been a little frightening," he laughs, a sort of embarrassed chuckle that punctuates his conversation, the sound of someone negotiating the best bit of luck they have ever had, not wanting to sound arrogantly blasé or overexcited. "In England no-one had heard of the series when I went for the audition, so it has been a total, utter surprise. The change to my everyday life is so extreme. Before this I was used to working 10 days a year. Originally, I did a three-picture deal, but I wasn't even really thinking about that… I had no idea that I'd still be working on it now."
Does the poor boy, who still calls London home, feel he has to hide? "I tend to stay in the hotel because it's highly publicised where I'm staying all the time. There's always a bunch of people outside. I can't really be in LA now at all. It's not that the fans are threatening, but the paparazzi follow me all night." This hounding can evoke an absurd sympathy, considering the kid's fortune and prospects. But then he brightens, telling me he was buying a guitar the other day and had to spell his name 12 times, and the guy still didn't twig. "I loved that. It was my fault — I wasn't speaking loud enough." (
Gozde: There are still people who don't know who Rob is and I will pretend to be one of them when I meet him... Sorry I didn't get that. Was it Rob Pattington?
)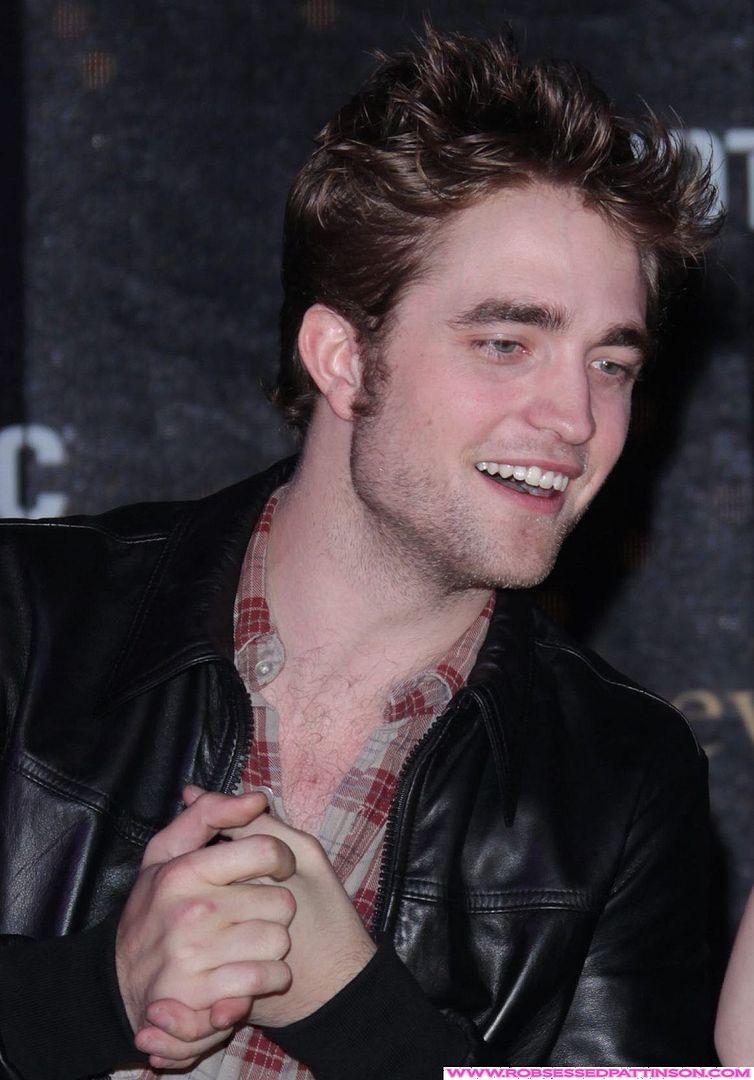 When he read the first script, he had no idea how to play it. "I thought Bella, the heroine, would be a damsel in distress and I'd have to be the alpha-male hero type, so I thought I was never going to get it. But when they cast Kristen Stewart, she's not really like that, so I realised there was a different way to play Edward, to show his vulnerability." Could he get trapped, find it hard to move on to different sorts of roles?
"It worries me, because the whole Twilight thing keeps getting bigger and bigger, and now it's so big that even my own ego can't cope with it. A certain amount of success you can mentally deal with, but there's a point where you think, 'Jesus Christ, what is this? I'm not that great!' I just wanted to make an American film, and I wanted it to be relatively good and to be good in it. I have never pushed to do anything… As soon as you start going to the gym every day and try to look like a movie star, you're going down a worrisome track." He laughs. "Being an English guy you get a lot more breaks. You're allowed to look a little worse. It's that thing about English teeth. Actually, Canadian teeth are pretty bad."(
Gozde: LMAO!
)
- skipped. This part of the article talks about the Twilight phenomenon, the convention in the UK etc.
And what of the young man who can't leave his hotel room? Robsessed, a documentary detailing his unimaginable rise, is released this month; speculation fizzes as to whether he and Kristen Stewart are a real-life couple. A less scary individual it is hard to imagine, though some fans have apparently been alarmed by his wispy chest hair. He mumbles a bit, not in a Brandoesque way, but because he is a nicely brought-up, self-deprecating, privately educated Englishman and somewhat embarrassed by the fuss. As well as loving it. The mumbling is also strategic: "It's an attempt to cover myself up," he admits.
When he tells you the hardest part of filming Twilight was having to look convincing in the scene where he threatens four grown men, you believe him. He is the ideal, unthreatening, sensitive object of a first crush, the noughties answer to David Cassidy in a satin shirt. Rather than sleekly groomed, however, he is adorably dishevelled, confiding to Jay Leno that he's given up washing his hair, which he is contractually forbidden to cut. When a loved novel is adapted for stage or screen, the casting is delicate; one of 5,000 hopefuls who auditioned for Edward, Pattinson claims that fans were "100% negative" about his casting. "That's just Rob being modest," smiles Katie in Northampton, who loves him to bits.
Is he embarrassed to have millions of girls in love with him? "The only time it's embarrassing is when you do a photoshoot and people try to force you to look clean-cut," he says, "when they use pictures where you're smiling sweetly and having your hair brushed, because that's not what you want to be known for. "I don't really know why the girls love the movie so much. The whole series has become a bit of a cult. People like being part of the club. They're obsessed. The fan fiction is amazing: I've been sent whole novels featuring me as myself, in the Twilight world, with Edward in it as well."
Gozde: Rob reading FF makes me all warm and fuzzy inside :)

)

You can read the skipped part and the rest of the article over at Times Online. It dissects the Twilight phenomenon and abstinence in the book...

Thanks to RobPattzNews for the tip :)