SET Magazine Brazil
(what's up with all these Robert Pattinson comics?:))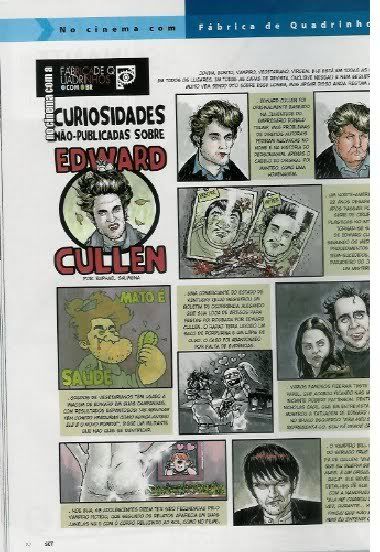 Legend of comics :
- Groups of vegetarians has used the image of Edward in campaigns with great results: "The girls have never eaten as a vegetable! He is the new Popeye!"
- In the USA, 48 teenagers say they have been fertilized by Edward, who reportedly appeared in their windows bare and gleaming in the sun, like in the movie!
- Edward Cullen was originally based on youth developer Donald Trump, but copyright issues have called for changes in name and history of the character, only the original hair was kept as a tribute!
- A North American 22 years disappeared after going through a series of plastic surgeries in order to become the double of Edward Cullen, the procedures were successful, but the whereabouts of the young is a mystery.
- A trader in the state of Kentucky (USA) reported a police report alleging assault committed by Edward Cullen, she said, he stole a bag of glitter and eyeliner, the case was dropped for lack of evidence!
- Several famous auditioned for the role of Edward Cullen, who ended up with Robert Pattinson, among them Nicolas Cage, who in a recent interview showed the tattoo that Edward has in his left arm: "I am his fan, man!"
- The vampire Bill Compton True Blood the show is a fan of Cullen: "He is everything I wanted to be and more, is a pride for the race." He also revealed details of his intimacy with his girlfriend Sookie: "She called me once during Ed ... you know, pretended it was nothing, but I understood the message.
source:
Blog Twilight Brazil
via
Gossip Dance
:)
English Square (China)
I think this is one of the worst Rob pictures, no idea why they keep using it...
source:
Robert Pattinson China
via
Spunk-Ransom