Vikend Magazine
Fight for Blood
Vampires now and then
Movies mentioned: Dracula, Twilight, True Blood, Blade, Underworld, Vampire Love (?) Ultraviolet
Kronen Zeitung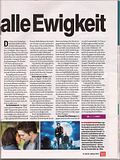 Translation:
For all Eternity
Millions of fans are infected by vampire virus. Since Robert Pattinson & Co. were brilliant as undead, one thing is clear: bloodsuckers are genius seducers. There is a new series on TV.(PRO 7 - Vampire diaries)
That is the translation of the title and first, bold printed paragraph. More than half of the article is about Twilight and Robert Pattinson, but nothing new: books, Bella's and Edward's cult love story, Rob as the new Leo DiCaprio, teenie idol, crazy fans, $8.million for New Moon, Rob and Kristen as a couple in real life, Barbie dolls.....
Big Thanks To Darja for sending us these and for translating.