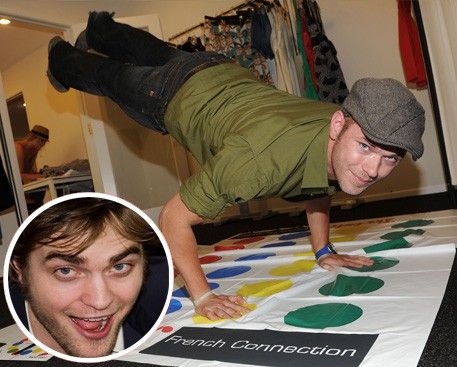 Not content with being adored the world over and having a pot of gold bigger than heatgeek (probably), Robert Pattinson apparently wants his very own pair of man-boobs, too.
(Kate:Well we knew Rob was a boob man but this is ridiculous)

His Twilight co-star Kellan Lutz was the one to reveal Pattz' booby secret, saying, "He asks me what I do to work out because he wants man boobs like me. I just tell him I like doing push-ups." So it would seem. And not in the gym, either, but on a Twister board. And why the heck not? Kellan is jealous of Rob, too, admitting, "He's such a talented motherf*****! I wonder how I can get what he has." We think you have quite enough of your own assets, Kellan. At least you're safe in the knowledge you could beat more or less anyone* on the planet at Twister.
*except contortionists. They are strong and bendy
(Kate: Well we have photographic proof that Rob is bendy too! I'm talking about his wonky legs, what did you think I was on about?)

Source
HeatWorld.com