Posted the video yesterday and here's the cute gif of Robert Pattinson, Kristen and Taytay :)
Edward: You guys smell something?
Aro: I know! It smells awful! Look how vigorously I'm shaking my head.
Rob: Ugh! It's Bella! She smells of Wet Dog! I told you to stay away from the mutt! Here I am committing suicide and you smell of dog! Typical Bella! Typical!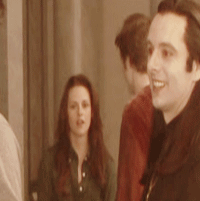 Source
Robstenation