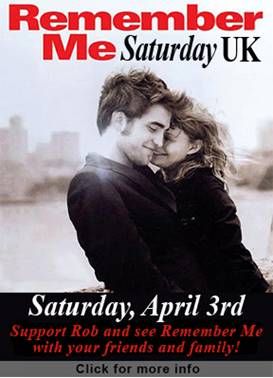 Yeap it's nearly that time (finally).
"Remember Me" will be released in the UK this Friday 2nd April and here's your chance to support Rob and his movie by getting involved in the
"Remember Me" Saturday UK
campaign.
"Remember Me" Saturday UK
is a nationwide fan event organised by Rob's fans to support "Remember Me" and all the people involved in the film.
So you know what you need to do, get out there on Friday and see the movie then tell everyone you know, your family, your friends, everyone how good the movie is and get them to go with you on Saturday to see it. Let's do this people!
For more info check out
"Remember Me" Saturday UK