The New Moon DVD countdown is almost over! It's time, it's time!
To celebrate New Moon's March 20th release Walmart and ROBsessed are giving away TWO Robward party packs! Each pack is at a $100 value and includes the following:
• A $30 gift card to purchase Walmart's New Moon Ultimate Fan Edition DVD
• Twilight Saga New Moon apparel – that's a t-shirt featuring Robward's chiseled jaw!
• Twilight New Moon Magazine – "Life Stories Film Fantasy New Moon"
• New Moon Nacho Doritos – blood flavored… OK, no, it's not, we made it up :)
• Twilight Party Supply items
• Twilight tote – carry Robward around with you everywhere!
• Twilight jewelry – a snazzy necklace and pair of earrings for your party outfit!
• Recipes for Twilight-themed snacks – vegetarian of course!
• A pair of Robward sunglasses for use during any of the scenes where Jacob smiles and shows off those blindingly white veneers!
• A bottle of shimmering body spray with which you can turn your boyfriend/husband into a sparkling queen…I mean sparkling vampire :)
See how thoughtful Walmart is?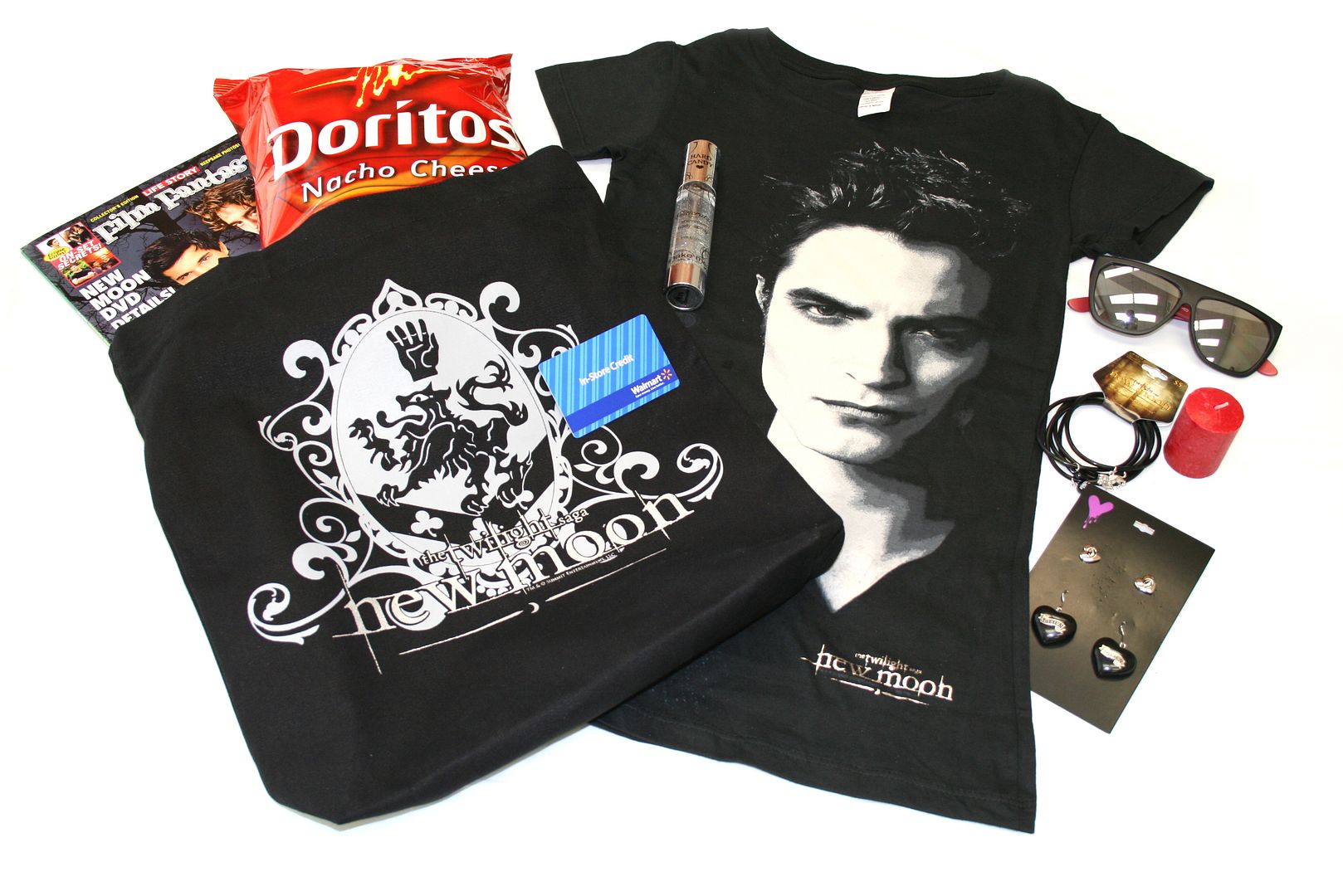 It's easy to win! Just leave us a comment and tell us what your plans are for the momentous occasion that the New Moon DVD release is!
Will you go to any release parties? Will you take your phone off the hook while you watch the DVD over and over and over, dreaming Robward is proposing to you? Will you dream you are running, slow motion, in the forest with Robward while wearing the cheesiest clothes possible?
No? It's just me then :)
After leaving a comment please email us at
robsessedgiveaway@gmail.com
to enter the giveaway. You should get an automated response from us. We will not give your email address to anyone. 1 entry per person. The deadline to comment and email us is March 14th. The contest is open to US residents only.
We will announce the two lucky winners who will be selected by a random number generator on March 15th and ship the packs so you can have the necessary "equipment" to celebrate New Moon Day!
Don't forget to hit your local Walmart on March 20th to buy the New Moon DVD because:
1. Walmart is the only retailer who will carry "The Twilight Saga: New Moon" Ultimate Fan Edition DVD & Blu-ray with never-before-seen footage from the upcoming "The Twilight Saga: Eclipse" movie hitting theatres this summer.
2. Walmart is launching its "Twilight Saga Shops" in-store the week of the DVD release and it's full of your favorite Twilight merchandise. There are also separate sections in the shops dedicated to Vampires and Wolves so you can easily stock up on your favorite Edward or Jacob tees, bags, jewelry, and more!
3. Walmart presents the ultimate New Moon experience on their micro site Walmart.com/twilight where fans can choose to view their own theatrical trailer, get fun recipes for their movie viewing parties and find the closest Twilight midnight event nearby!
________________________________________
Edward Cullen: Heaven.
Bella Swan: [Bella runs into Edward in an attempt to get him back in the shadows] You have to move! Open your eyes, look at me. I'm alive. You have to move!
Edward Cullen: [Edward grabs Bella and goes into the shadows] You're here!
Bella Swan: I'm here.
Edward Cullen: [Smiles] You're alive!
Bella Swan: Yes... I needed you to see me once. You had to know that I was alive. You didn't need to feel guilty about it. I can let you go now.
Edward Cullen: I could never let go of you. I just couldn't live in a world where you didn't exist.
Bella Swan: [puzzled] But you said...
Edward Cullen: I lied. I had to lie, and you believed me so easily.
Bella Swan: [Starts crying] Because it doesn't make sense for you to love me. I'm nothing... Human. Nothing.
Edward Cullen: Bella, you're everything to me. Everything.
Altogether now: *SIGH*