Water for Elephants Extra Emily shared her day on the set with our friends
WaterForElephantsFilm.com
. It's lovely, enjoy!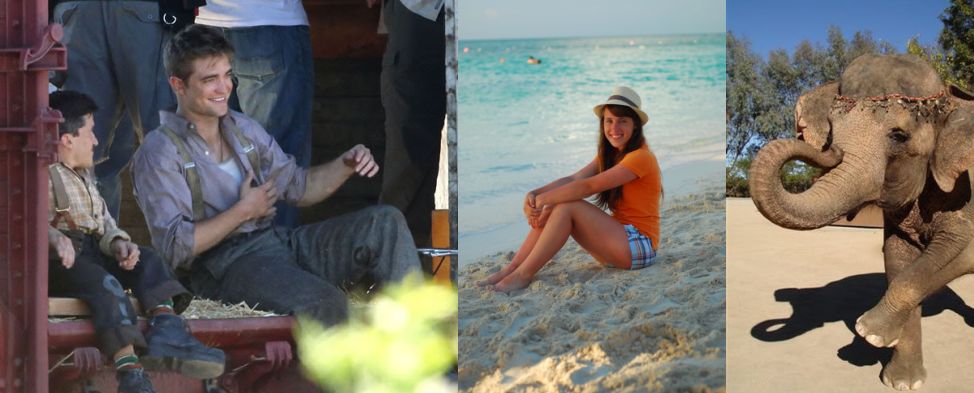 In between takes one of the clowns offered Rob a piece of candy. Knowing the clowns' tendency to prank, Rob jumped back expecting something to happen, but the clown just laughed and reoffered it to him. Rob, still not trusting the clown, hesitantly took it and walked away laughing.
We were now ready for our next take, same thing but different angle. Once again the AD yelled, "Action!" However, one of the llama's had a mind of its own and refused to walk forward as its handler pulled on its harness as hard as she could. Blocking the entire parade, everyone, including all the actors and director, erupted in laughter forcing the AD to cut the shot. Seeing the reaction of everyone on set, I really hope that part makes it in the blooper reel of the DVD extras.
In between each take throughout the day, various families of crew members would take pictures with Tai. It would be the last chance they get before she was done with her role as Rosie later that day. Rob, in between takes, would either hit up craft services, or talk with his costars or his assistant/bodyguard (who was with him at all times). He would also go to Tai and the other animals and pet them. He really enjoyed interacting with the animals a lot.
While waiting in the hot July sun, it was nearing lunchtime as they sent many extras back to the holding area. I was one of the lucky few that were chosen to stay for the close-up shot with Robert Pattinson and Christoph Waltz. This shot was awesome because I would get the chance to be inches away from Rob as he walked down the street for the parade (every Rob-lover's dream). We were told to pantomime so the sound guys could pick up Rob and Christoph reciting their lines.
This scene was pretty intense as both the actors spat their lines with anger toward one another while trying to keep their composure for the crowd. Both Christoph and Rob did this part very well considering their strong friendship off camera. After many takes of that (which I'm not complaining about at all haha) we were finally off to lunch. I have to admit for the amount of people they had to feed, the food was really good! We had pasta, cheesy potatoes, corn, bread, salad, ice cream, brownies, and cookies.
After lunch we sat in holding while the rest of the cast and crew finished up their lunch. Little did we know a lot of extras were going to be cut, but once again I was lucky enough to be chosen to stay. It was a good thing because these last scenes of the day were all about Robowski. We walked our way to set and watched as they prepared the next shot. Jacob was going to be entering a diner. The shot was as simple as that, but the lighting was not. After waiting quite a while, the cameras were ready to roll.
The AD told me I was supposed to walk behind Rob right when they said, "Background." Without complaint that's exactly what I did! Just when I thought the day was about over, we were told we had one scene left to do. This would be the best scene of the day too. It would involve Jacob, Camel, Rosie, and some vegetables. As we got into our places, I was right up in front of the crowd when I realized who I was standing next to, the one, the only, Sara Gruen and her family. This was such a surreal moment for me because she was the one who created this all and now she was going to get a cameo in the movie. The director instructed Rob to push through the crowd and pass directly by Sara to get to Rosie who was misbehaving.
Once again I found myself inches away from Rob (swoon). This scene had a lot of dialogue in it so I got to hear Rob's gorgeous American accent over and over; however, right as they would yell cut, he would go back to his even more gorgeous British accent. Right after one of the shots, he was standing in front of me and flashed one of his infamous smiles at me. I had a minor freak-out but recovered fast enough to smile back. We found ourselves doing this many times because poor Tai was tired and didn't want to listen very well (I don't blame her! She'd been working hard all day).
While we had a break between takes, I had the privilege of talking with the author. She asked me when I got there and when I responded, 3:30am, she was shocked and seemed grateful that I and many others had been there for over 16 hours to bring her story to life. I then asked her how it felt having her story made into a major motion picture and she said, "I work with words, and words cannot even describe." (something she later posted on her facebook profile). We chatted for a while after that about different things about the book and what she thought about the script (which she thought was very well written). We finished up the day with a few more shots of the same thing and were released at 8:30pm.
This experience on Water for Elephants has truly been amazing. Having the privilege of waking up in the morning and working with Oscar winners and the world's biggest heartthrob is something I would have only dreamed of two months ago. It has now become a reality I will never forget and I am grateful to have the opportunity of sharing with the world.
We only posted parts with Robert Pattinson, you can read the whole story at
WaterForElephantsFilm.com
Thanks to Maria for the tip :)