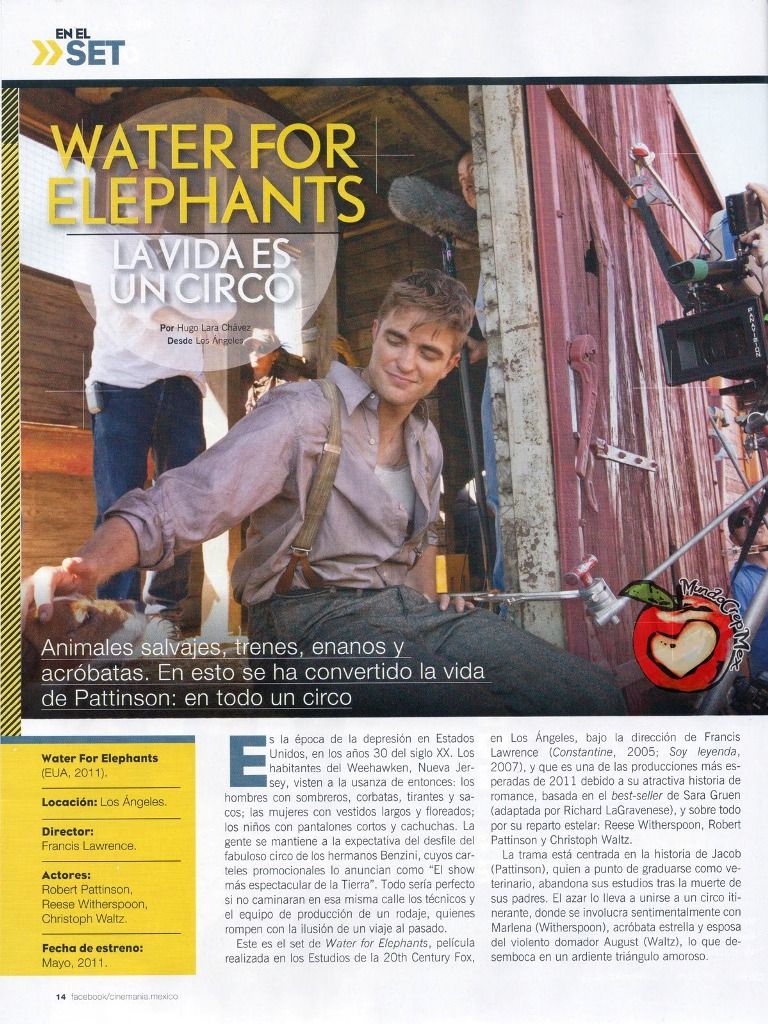 Click For Larger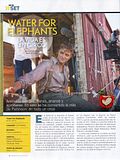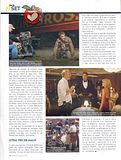 Translation is done via Google translator so it's not the best
(I fixed the bits that didn't make sense but I'll put up a better one as soon as it comes out)
Scans/Transcription by
TwilightWorldMexico
It is the Depression-era United States in the 1930's. The people of Weehawken, New Jersey are dressed in the fashion of the time: men in hats, ties and jackets, women in long dresses and floral, children in shorts and hats. People are on the lookout fabulous parade Benzini Brothers Circus, whose promotional posters proclaiming them as "the most spectacular show on Earth." Everything would be perfect if you do not walk among the road of technicians and production crew of a film, those who break the illusion of a journey into the past.
This is the set of Water for Elephants, at the film studios of 20th Century Fox in Los Angeles under the direction of Francis Lawrence (Constantine, 2005; I Am Legend, 2007), and is one of the most anticipated productions 2011 due to its compelling storyline of romance, based on the best-selling novel by Sara Gruen (adapted by Richard LaGravenese), and especially its star cast: Reese Witherspoon, Robert Pattinson and Christoph Waltz.
The plot centers on the story of Jacob (Pattinson), who about to graduate as a vet, drops out of school following the death of his parents. Fate leads him to join a traveling circus, where he becomes romantically involved with Marlena (Witherspoon), acrobat star and wife of violent animal tamer August (Waltz), which starts an ardent love triangle.
THE CIRCUS OF A SHOOTING
Before the interviews, the journalists are put in a convenient place to watch the circus parade, consisting of a band, clowns, strong men, dwarfs, the trapeze artists and jugglers, and the different animals: a giraffe, lion, two camels, two llamas, three ponies, three zebras, some draft horses, a hippopotamus and trained dogs. But the highlight is the appearance of Reese, mounted on Rosie, the elephant, accompanied a few meters by Waltz and Pattinson. The great uncertainty of about 300 extras who have been called to this day, cheers to this truppa circus.
The filming of this scene, three cameras, is repeated several times until finally the director is satisfied. Then, some scenes are shot silent, where the extras should simulate the gestures of cheering. Later, the main camera changes location and the fields are shot and reverse shot, as the pianos of aspects and details. The implementation of this is the result of a long planned in conjunction with the director of photography, nothing more nor less than the Rodrigo Prieto (Amores Perros, Brokeback Mountain, Biutiful), which at one point giving becomes visible instructions to his assistants, with the meter in hand and watching the monitor as he shoots a steadicam.
At one point, Reese shows her skills as a gymnast and animal tamer. She has become friends with Rosie who with grace gets picked up from the ground and then climbs up. She is assisted by the elephant, which indicates a lot of training.
"Of course I was scared, she confesses later," I cried the first time I went, but then I took off. I learned what her personality was like and I won her trust, " she says.
Reese comes to talk with us, accompanied by Pattinson, who wears the clothes of his character, knee boots, panta LONES tight, button-down shirt.
"It's very rewarding to participate in a movie like this," says Reese, where authentic settings, with real characters and a good story. Only a few computer effects . I think the audience is hungry for authentic stories with which they can relate. In addition, each specialist who has participated in this movie is a craftsman, the designer, the costume ... it's nice to see the work they do. "
Endearing characters
It is very illustrative of visiting this day of filming, which Cinemanía was exclusively invited since it is carried out one of the most colorful and spectacular scenes of the shooting: the circus parade through the town. At a glance, one is dazzled with the costumes and setting of the first level, in this old scenario that has served the pair to shoot some classic films like The Grapes of Wrath (1940) and Hello Dolly! (1969).
"I always had a fascination with the circus-Reese told us. I was also a gymnast, juggling, trapeze luck with, and things like that. "
"Yes, me too" Pattinson says, though not particularly obsessed with the world. I think it caused me some concern when I was younger. I guess the circus caused a more profound effect on the times that are recreated in the film, when there was no zoo or TV. "
Both actors are very friendly towards each other, because despite the age difference, they know each other for some time and make a good couple on screen, because Reese is down years. "I hate this story. It makes me feel so old [laughs]. We met in a movie. I was 24 and played a young woman who had a son. " Reese blushes slightly, joking with Pattinson, who gave the word. "She was my mother," said he, laughing, in Vanity Fair. "
In any case, the two are very enthusiastic about their roles in Water for Elephants, seeing in them as rich and intense roles. "My character has a very interesting way" describes Reese, she began working very young, amid the Great Depression, when everyone is looking for a way to survive. She has a real attitude of the survivor. On the other hand, she is in the midst of an abusive relationship with her husband, and the character Rob (Pattinson) plays makes her see that there are other things better things, and that there may be ways to have a new life. "
"What I especially enjoyed about my character was being surrounded by animals," says Pattinson. I had never lived with an elephant. There's something very gentle on her [Rosie] I enjoy, "he says.
WRONG AGAIN
In an another conversation, Christoph Waltz com part a similar view: "A fascinating thing was his old circus animals. There are almost no circuses because they are under increased protection [luckily, we say]. If you whip an elephant, surely you would receive another immediately. To have lived three months with an elephant is the most incredible experience you can imagine, they are very smart, "said the Austrian actor.
He also jokes, remembering the test session they had before filming. "Rosie, the elephant, does precisely what is asked" mentioned Waltz. She is very obedient and intelligent. Then I told the director: Don't you wish all actors were like her, patient and attentive?, she is the ideal actor! [Laughs]. "
Waltz has a strong personality, some European elegance, a firm and a subtle humor that is evident in each of his responses. "I can not describe my character," he replies to my request, or I don't, because what I do for a living is play the character and what you do for a living is to describe a character. So let us keep our positions. " But later, he gives us some clues to understand the difficulty of his craft. "It's a sim develop therapeutic exercise yard for a nasty character," says Waltz on their role. I would not say that this character is negligible because it would be a trial. What I do is translate the character into actions and emotions. If I give an opinion on my part, I seem downright boring. I think the opinion should be formed to see how it develops, "says .. •
via
robstenation