Ok now the first thing I HAVE to stress is the emphasis on the
RUMOUR
part because that's REALLY important. Please keep in mind that's all this is at the moment!
Just needed to make that absolutely clear ;-)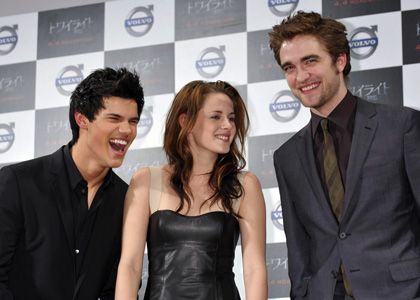 Now here's the part of the article from
Jornal O Globo
that has started the rumour and says that there might be a chance that Robert Pattinson, Kristen Stewart & Taylor Lautner MIGHT be going to Brazil for a "Breaking Dawn" Press Junket.
(I used google translate to translate it)

"The Twilight Saga: Breaking Dawn - Part 1", continued the successful vampire series, distributed in Brazil by independent Paris and scheduled for the second half, and the animated "Puss in Boots," from Paramount, whose main voice actors, Antonio Banderas and Salma Hayek, will come in November.

All this generates a high cost to distributors. The market speculates that for the junket for "Fast & Furious 5", Universal has spent nearly $ 5 million. As for the "Breaking Dawn", Paris must spend up to $ 1.5 million to bring to Rio, the trio of actors Kristen Stewart, Robert Pattinson and Taylor Lautner.

-

We had already made a release of "Twilight" series in 2009 in Sao Paulo, with "New Moon". Then we were lucky to even the author of the books, Stephenie Meyer, environments have part of the "Dawn" in Rio, which brought them here to shoot last year. This facilitated the agreement to perform the junket - says Sandy Adamil, director of Paris.

- You can not be guaranteed return on investment at the box office, but marketing. It certainly helps to enter Rio in the international film market."
Check out the rest of the article at the
Source
via
RobsessedBrasil
As always as soon as we hear any confirmation or any more news on it we'll let you know!