Robert Pattinson On The Cover Of "Vanity Fair" (Italy) & Preview Of Interview (Translated)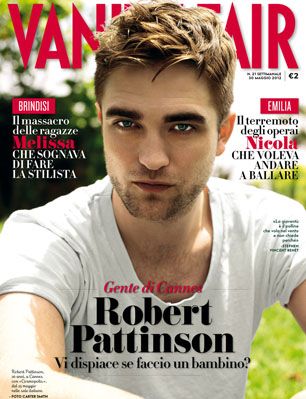 Excerpt from the interview
This is translated using Google Translate so you know the drill!
In Cosmopolis - premiering at Cannes - Pattinson keeps the pallor that made girls all over the world fall in love with him, the romantic air of Edward, however, has disappeared. (...)
Do you have any idea why David Cronenberg chose you?
"Honestly, no. But I have never asked: I am just glad he did. "(...)
In Cosmopolis the sex scenes are quite explicit: has it proved embarrassing?.
"More than anything I was nervous for the actresses. When a man gets undressed he stupid, but he's basically having fun. I think for a woman is something different, more problematic. "
In real life, are you more sweet or passionate?
"Passionate, I hope." (...)
One of your best friends, the British actor Tom Sturridge, is expecting a child by Sienna Miller. Do you want to become a father?
"Sure. I don't know just yet, but definitely yes. "
Have you already made ​​plans with Kristen?
"Not yet. We have nothing planned. "
Do you feel ready to go live with her?
"(He hums, to mask the embarrassment) I'm ready for anything."
The full interview on n. 30 of Vanity Fair on newsstands May 23.
Source
VanityFair
via
Source
Thanks to
Bru
for the tip!