Robsessed odds and ends: Tracking Robert Pattinson mentions around the 'nets
Some more Rob bits for you guys! First up is Comic Con news. Sure am going to miss moments like this...
Rob:
Making love on the beach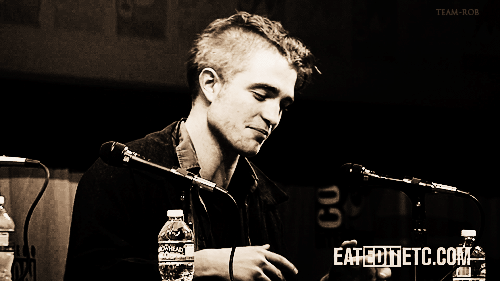 HitFix
named the
20 Biggest Stars expected at Comic-Con 2012
and Rob was included in the list:
Robert Pattinson
Name: Robert Pattinson
Comic-Con Virgin: Nope, there are rumors RPattz actually lives at Comic-Con
Promoting: "Breaking Dawn: Part 2"
When: The "Twilight" panel Thursday at 12:45 p.m. in Hall H
Lowdown: Come say goodbye to Edward! Pattinson's annual
awkwardly adorable (or adorably awkward) act gets one last chance to
shine at the Con. Unless he winds up in another big franchise before
next year.
The word is adorkable, HitFix. ;) Rob
is
one of the biggest stars out there and Metric had some nice things to say about him. The
Washington Post
posted a video of Metric's Emily Haines talking about her work on
Eclipse
and
Cosmopolis
. She mentioned Rob as well saying she met him and said he's a really good guy. They got to hang out at his house too! Lucky musician.
Sticking with a semi-Twilight theme,
Breaking Dawn
choreographer, Pat Cerasaro, gave an in-depth interview with
Broadway World
about his profession and his work on projects. Here is when he mentioned Rob:
PC: Was the dancing in TWILIGHT: BREAKING DAWN all Robert Pattinson and Kristen Stewart, specifically in the wedding scene? That 360 camera shot is so sweeping and beautifully rendered.


PB: Oh, yeah. That was all them one hundred percent. We had rehearsal with them for that scene specifically. Also, there was a Steadicam pass that we did that was actually with Jackson Rathbone and Ashley Greene dancing and they were actually doing swing dancing and flipping around and all of that stuff, believe it or not! [Laughs.] They all had fun - we all had a lot of fun on that scene. I loved working on TWILIGHT.
I honestly would have liked to see the Edward and Bella first dance. I feel like it was a missed moment. Maybe it will be included in that inevitable box set for the films. It will help make up for that loooooong and nauseating dance scene Bella has with a certain other character.
Final news for this round of "odds and ends" comes from
Entertainment Weekly
. They listed 19 real-life couples and Rob and Kristen were on the list among Brad & Angelina, Paul & Joanne, Spencer & Katharine and more. What was the question?
Sizzle or Fizzle? Real-Life Couples On Screen
Well that gif is certainly a sizzle, non? From
EW
:
Are they dating? No way they're actually dating. Well, maybe they're dating. Yeah, they're probably dating. Let's just say they're dating, okay? (Stewart, in referencing her ''British'' boyfriend — Pattinson is from England — has basically done as much.) Questions about their relationship aside, these two are the undisputed box office champs.
Box Office: The first four Twilight movies grossed $2.5 billion worldwide, an average of $626 million per movie. Later this year, The Twilight Saga: Breaking Dawn—Part 2 will almost certainly push the couple over the $3 billion mark.
Relationship Longevity: Four years, a boatload of smoldering looks, one vamp-human hybrid child, and counting!
Catch you guys next time with the odds and ends!