UPDATE: Added twitter comments from Mathieu Carratier
UPDATE: Added quotes from the interview Below
NEW Robert Pattinson On The Cover Of 'Premiere' Magazine
Rob is once again featured on the Cannes Special edition of Premiere Magazine. It will be out next Wednesday and has a new photoshoot and interview.
For now though check out that cover!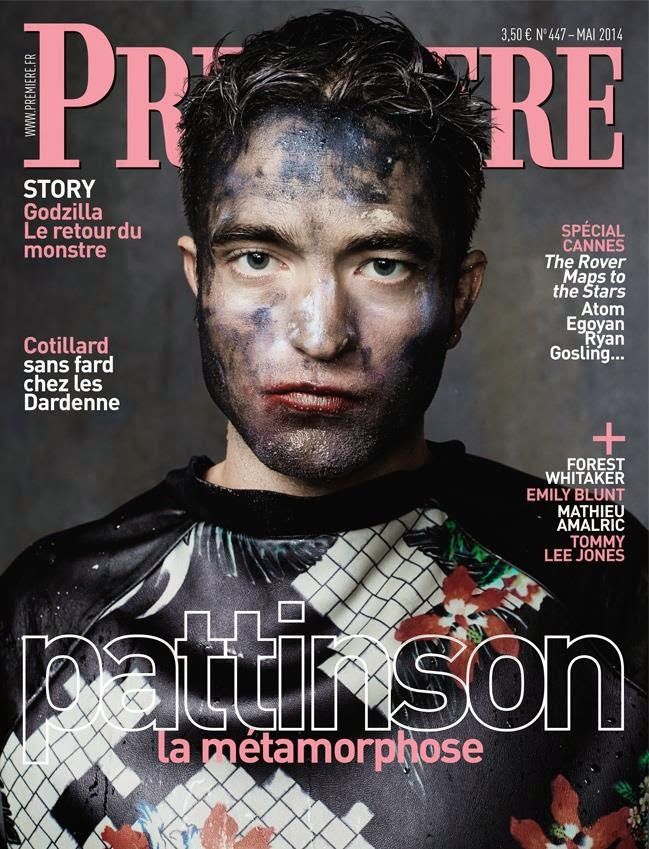 "Première:
Robert Pattinson is transformed! Our Cannes special issue is on sale as early as next Wednesday"
And in case you were wondering what Rob is wearing on the cover Courtney from
The Fashion Court
is on hand with the information:
"Robert Pattinson wears @31philliplim Spring 2014 for the latest cover of PREMIÉRE Magazine"
Source
via
Pattinson AW
Preview/Quotes from the interview (source)
. Translation thanks to
Pattinson ArtWork
Robert Pattinson lets it go on the cover of Première

With two films in Cannes - The Rover and Maps to the Stars - Robert Pattinson is on the cover of Premiere Magazine.

That's it, Robert Pattinson has definitely moved up a gear and left Twilight behind him. We will see him in two highly anticipated movies at Cannes Film Festival 2014: The Rover, a post-apocalyptic and hyper violent western, brutal and uncompromising, and Maps to the Stars, his second collaboration with David Cronenberg after Cosmopolis, a psychological family drama which autopsy Hollywood. The perfect opportunity to put him on the cover of next issue of Premiere, the Cannes issue, with its special file about Cannes, which reports on all the movies and events of this year 2014 on the Croisette.

The opportunity to interview Robert too: he talks about his sex scene with Julianne Moore in Maps to the Stars ("I was breathless, soaked ... and her, not at all"), about the hyper intense filming of The Rover (a "hungry" movie) in the middle of the Australian desert, about what Cannes means for him, about directors James Gray and Romain Gavras ... And most importantly, as you can see on our cover, the opportunity to discover the former Edward Cullen like no one has ever seen him before on a photoshoot ... colorful, we will say. Proof by picture.

This issue will be available on newsstands next Wednesday.

Maps to the Stars released on May 21 and The Rover on June 4 (for France)
Mathieu Carratier
did the interview with Robert Pattinson and has been tweeting a few bits of info on his twitter account