5th Annual ROBsessed Awards ~ Celebrating Robert Pattinson's Awesomeness in 2015
UPDATE
:
Polls are closed except for 2016 Most Anticipated. We'll add links to the results as they're posted!
The
5th Annual ROBsessed Awards
is over! You can find all results in the links below. See you next year!
The
ROBsessed Awards
are our own slice of awesomeness every year-end.
Josh Horowitz, a winner in the
1st
and
2nd
awards,
has acknowledged his win
and unexpectedly repaid us in the
most epic way possible
. Rob's
Cosmopolis
co-star, Patricia McKenzie, was so pleased with her win, she gave us an exclusive and lengthy interview, the
sugar
and the
spice
.
Safe to say these awards are our own little slice of awesome.
This is our chance to highlight some of the best Rob moments through the year and you guys vote for the winners. The winners just happen to
always
be Rob or a Rob supporter! ;) That's the kind of polling that belongs on
ROBsessed
. ;)
So now we bring you our very special.....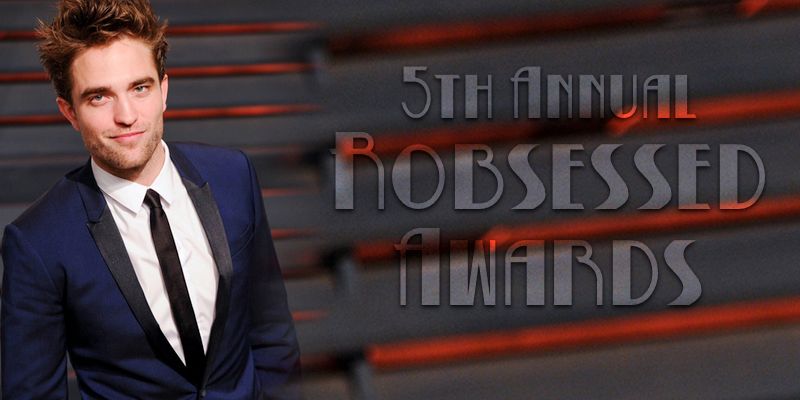 Guidelines:
Starting at midnight (ET) on Dec. 27th we'll post a category with the nominees every 12 hours. You'll only be allowed to vote
once
in each category. We'll add all the links for the polls in this post as they're revealed in case you need to refer back to them. You might need to ponder your vote so bookmark this page!
Polls will close Thursday, Dec. 31st at midnight (ET)*
. Results will be revealed on New Years Eve, starting at 12pm ET. The results will continue every hour on the hour as the blog counts down to 2016! We'll be kicking things off with a bang so get ready!
5th Annual ROBsessed Awards categories (in order):
*The final category will remain open until an hour before the voting result is revealed for the 2016 Most Anticipated Moment.