MTV talks about Robert Pattinson's dedicated fans "in it for the long haul"
MTV posted another article about the Cosmopolis win in the MTV Movie Brawl. More praise for Rob and his dedicated fans (aka you guys!).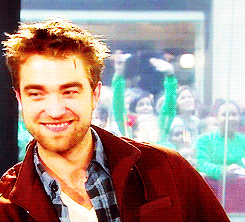 From
MTV
/Kara Warner:
How Did 'Comopolis' Top 'Twilight' In Our Movie Brawl? This week's 'Twilight' Tuesday takes a closer look at why fans chose Robert Pattinson's indie over 'Breaking Dawn - Part 2.'

Over the course of the "Twilight Saga" movies, we at MTV News have come a long way in understanding the franchise's very passionate fanbase. So when we launched the MTV Movie Brawl 2012, I thought there was a very good chance "Twilight" fans would vote "Breaking Dawn - Part 2" through to the championship round and into the championship slot, no problem.

I was wrong. "The Twilight Saga: Breaking Dawn - Part 2" was ousted early, in the second round, by eventual champ "Cosmopolis." Yes, the two films share a very popular star in Robert Pattinson, but compared with the millions upon millions of "Twilight" fans who have read all of Stephenie Meyer's books, we're guessing not as many are familiar with "Cosmopolis" through its source material by Don DeLillo.

So here's what I think: All of you wonderfully dedicated Pattinson fans are in it for the long haul. You're choosing to grow and evolve right along with Pattinson and the ebbs and flows of his chosen profession. That sentiment is exemplified perfectly by this poignant comment by MTV community member and Pattinson fan, Lior: "VOTE COSMOPOLIS! Support Rob's new, professional career! SEE HIS TALENT BEYOND TWILIGHT."

Not that the excitement for the final chapter in "The Twilight Saga" has lessened in any way, of course, but because there's more mystery surrounding "Cosmopolis," it is the more intriguing of the two films.

And let's not forget about Pattinson's other upcoming film, "Bel Ami," which only narrowly lost to "Cosmopolis" in that first round. I would have thought the interest in seeing RPattz's bare behind on the big screen would have easily trumped the film about a fully clothed young finance wiz taking a day-long limo ride though New York City.
Consider me very pleasantly surprised.
Love it. The last paragraph is one of the reasons I was pleased it was
Cosmopolis
that carried the torch forward.
Shiny happy Tink after the cut!
Seriously ladies (and gentleman) of the DR...
The last couple days for me have been crazy because the day job started back up. I was posting in my soundproof cave dwelling in the dark recesses. I wasn't able to keep a real-time eye on the DR but I caught up tonight and I tell ya...it made me feel all warm and fuzzy. Not that this is new information but such a family we have here! Whether you voted once or a thousand times, the global rally behind Rob's indie-film-that-could was "astounding"!
MTV has a relationship with Rob and are strong advocates for all his films since Twilight. They aren't rinky-dink and are granted access to red carpets (premieres, awards) and press junkets for blockbusters and small budget films. They conduct their own full length interviews, travel to festivals, and get David Cronenberg on the phone.
While some polls can drive you mad (end-of-the-year ones are torture for basically nothing but bragging rights except for E!online which donates to charity), MTV has some weight behind what they can do with a poll and who they can speak to. I knew they would bring up the win to whoever they could but I didn't know it would be so swift. It wouldn't surprise me if Josh brought it up to Rob someday. He's probably gunning for a back-to-back win in the ROBsessed awards. ;)
We love you guys and we're happy y'all banded together to bring it home. Can't wait to see this movie!