Better Quality Cosmopolis Poster with Robert Pattinson
This looks fantastic!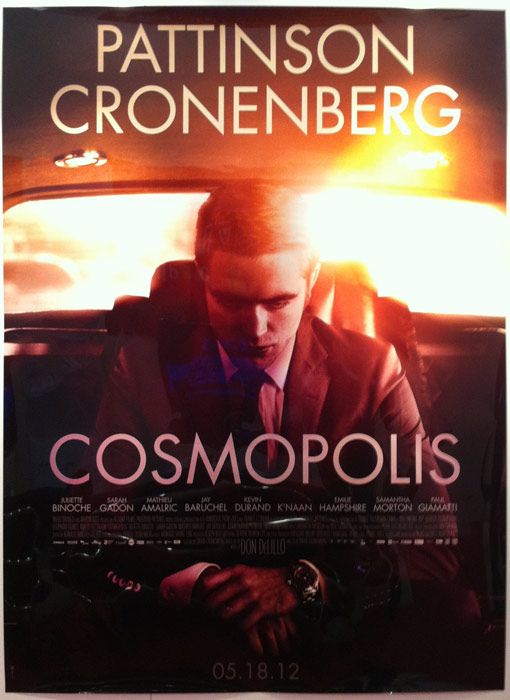 The "5.18.12" date at the bottom of the poster suggests a showing at Cannes :))
The festival runs from May 16-27.
CANNESROB RETURNS!!!!
Keep hope alive ;)
Promotion & Distribution News:
This poster is coming out of the Berlin Film Festival.
Variety
reported on TeleCanada promoting
Cosmopolis
at the fest:
Telefilm Canada boosts titles at EFM
Canadian producers are riding a surge of industry buzz and critical kudos at the European Film Market with hopes that a slate of pics from seasoned Canuck helmers and newcomers will keep the momentum going in 2012.
At the forefront is Telefilm Canada, which brings its sixth edition of Perspective Canada to the mart. The federally operated film funder will showcase a selection of features for the market, including David Cronenberg's "Cosmopolis" and Sarah Polley's "Take This Waltz."
"We're in a very positive wave of cinema right now with the successes we've had internationally," said Sheila de la Varende, director of industry promotion at Telefilm. "That creates recognition and anticipation in the marketplace for Canadian films."
And
Telefilm Canada
is also at work with the distribution. Excerpted from a press release:
Perspective Canada returns to Berlin International Film Festival to support sales of 19 Canadian films at European Film Market

...

Coming soon
Sales for films still in production are also encouraging. To date, Deepa Mehta's Midnight's Children is presold in over 40 countries and counting, and David Cronenberg's eagerly awaited Cosmopolis is presold in over 25 countries, including Italy and Portugal, and will travel the world.
Source
| Via:
CosmopolisFilm