Detailed fan review of Robert Pattinson's Bel Ami after Berlinale screening
I love the fan reviews and I know you guys do too. Regular reader, Lynne, shared her thoughts with us on
Bel Ami
and it made me more excited to see the film
God only knows when
.
If certain "reviews" got you down, don't forget to check out
THIS
great one from a french journalist with
Cineuropa
then dive into Lynne's detailed account on Rob's next great role.
From Lynne:
I had the privilege of being one of those to see the first official screening of Bel Ami at the Berlinale Film Festival last night with a group of my friends. After Rob and the other cast came into the theatre and were introduced, the theatre lights went down I sat in awe and disbelief as the movie started. After waiting for almost two years for this movie to be released, I couldn't believe I was actually going to see it, partly due to the scarcity of credible information, the uncertainty from Rob himself about its actual release and the way it was received by the public in those early test screenings. Added to this there was all the fandom and media confusion over the release of the movie and endless editing that seemed to be taking place behind the scenes for this Scarlet Pimpernel of the cinema! I tried not to go in with any preconceived ideas or bias which was difficult.
Throughout the movie, as always with Rob in his roles, he "became" his character, Georges Duroy from the very first scene. He was a convincingly desperate and shallow man - lonely, hungry, penniless and angry at his lack of any good fortune. You see him living in squalor and poverty watching on whilst the rich feast on everything he desires for his own life. Here Georges' frustrated, angry tears are convincing and genuinely moving.


Georges' transformation from these impoverished beginnings to his rise in society through his calculating, self-centred need to be respected and financially secure is handled just as it should be. I've read the book three times (and the script numerous times!) and I saw Rob playing Georges as he's written in black and white, albeit much more visually appealing (no curly mustache to twiddle!) and far more overtly sensual and at times coldly calculating. I also felt that Rob actually brought some small amount of warmth and humanity to the scoundrel Georges, you could understand why he did the things he did, ruthlessly treading on all who came into his path, using them as a stepladder to rise to the next level.
MORE after the cut!
The well documented initial naked sex scene with the prostitute Rachel (Natalia Tena) left me open-mouthed and kind of shell shocked (and somewhat breathless *hot flush alert*). This happens very early in the movie, so I made sure I didn't blink during those first few minutes, you know "just in case" I missed it. The movie is about sex, greed and power and I felt that all those elements were successfully translated to screen and the movie flowed naturally and never once did I think, "oh this is a bit slow". I was literally transfixed the whole way through.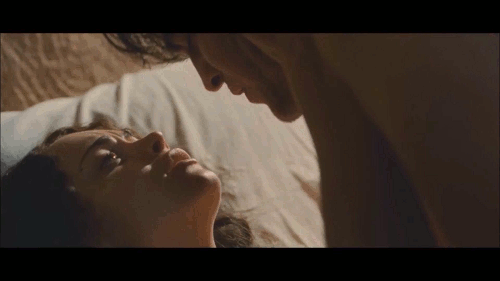 Rob's onscreen chemistry with Christina Ricci was both sweet, sensual and erotic, although I think they could have focused on their affair more to convince us of why she constantly went back to him despite him ditching her throughout the movie in favour of the next influential, wealthy woman who could get him the position he desperately wanted to be in Parisian society. His scenes with Uma were completely different, they were an unlikely couple and I was unsure of her casting as Madeleine Forestier. Uma's forced English accent, which I admit reminded me of ex-British Prime Minister Margaret Thatcher, was unconvincing although her cold, ruthless ambition suited her character perfectly. All the sex scenes with Uma Thurman and Christina Ricci were more explicit than I imagined them to be (this is spoken without any regret….). I was a little disappointed with Kristin Scott Thomas, I know she could do better and did feel she was uncomfortably awkward in her role as Virginie. However, Georges' seduction of her was erotic, harsh and yet shamefully magnificent.
There were many unexpected, light hearted and almost comedic moments dotted throughout the movie and the audience at the premiere audibly reacted exactly when they were supposed to, which was encouraging. They laughed when they were supposed to laugh, they "oohed" when they were supposed to "ooh" and giggled embarrassingly during those sometimes uncomfortable intimate scenes. George's face and reaction after his wife Madeleine - being much more interested in bringing down the government than the amorous attention of her horny husband - "deals" with his desire in as quick and efficient way as possible. This was an uncomfortable (but erotic) scene to watch but I felt Rob handled this scene absolutely brilliantly…."Mado….. slow down….." only for her to continue on regardless without feeling or consideration. His expression and discomfort when she got up from their very quick and cold sex so she could continue with her work, was absolutely priceless. Rob's nuances, his subtle expressions and actions portrayed many things. He does show anger and frustration brilliantly, his scene in the apartment where he says "I'm going to ruin you" was spectacular.


The movie does, however, have its flaws due to some harsh editing. The scene where Virginie wraps her hair around Georges' jacket button finishes there, with no explanation of why she did it and the consequences of that action with those hairs being discovered by his other lover Clotilde. I also think the scene where Georges elopes with Suzanne is rushed with vital dialogue and preceding scenes missing. Those who have not read the book, may find this a little confusing. Obviously condensing this French classic novel into a movie well under 2 hours long is a difficult task and only those who have read the book may understand the politics and complex character relationships described in the book.
In conclusion, having read some of the critics reviews of this movie, although there are some elements where I can see where they are coming from, their criticism of Rob's portrayal of Georges are undeserved and blinkered. My advice?...Go and see this movie!!!! You will absolutely love it, from start to finish, you will want to go back and watch it again and again and long for the DVD release in order to facilitate that "slo-mo" button on your player. My advice, forget the critics, go and enjoy this excellent movie and.... take a change of underwear.
I'm expecting a couple more fan reviews as well as our very own, Kate, who will see the film tonight at the Dublin Film Festival. We'll keep posting fan reviews because WE *waves around the DR and Rob's fandom* know what this film was about. WE know what we want. And WE will make this film a success for Rob even if we need to rally US folks to buy a movie ticket for Rob online. I know that's what I'll be doing.