Robert Pattinson's Bel Ami is reviewed and the reviewers are obsessed with Twilight
Kristin: Ugh. Reviews...
Dom
Rob: We must deal with it. Sit.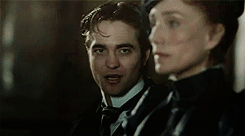 Screen Daily
wasn't sold:
A lush and impressively assembled adaptation of Guy de Maupassant's novel about a charming cad who rises through the Parisian high society of the Belle Époque by wooing women useful to his cause, Bel Ami stutters rather than glides and while punctuated by some impressive performances and a fine sense of design it can never quite find the right balance between its twin storylines of seduction and politics.

Reluctant heartthrob Robert Pattinson makes a brave stab at the immoral and manipulative Georges Duroy – the 'Bel Ami' of the title – and while his good looks and intense charisma may win over Twihards, the film may have a tough task finding an easy marketplace. Kristin Scott Thomas and Christina Ricci impress as Parisian ladies who are won over by Duroy's charm, though Uma Thurman as his Machiavellian equal lacks the charm to convince in her demanding period role. R-Patz fans seeking a bodice-ripping costume romance will be disappointed.
Hows about when a reviewer can write a non-Twilight review without these words, I'll take them seriously: RPatz, Twihards, Team Edward.
Bunch of crap after the cut.
Click
HERE
if you want to bother with more.
The Hollywood Reporter
did not enjoy:
There are countless brooding shots of Robert Pattinson in Bel Ami, occasionally shirtless and invariably drenched in overwrought music. That might titillate the swooning legions of Team Edward Twilight fans, but for the grownups, there's not much here to bite into. Neophyte film directors Declan Donnellan and Nick Ormerod, with help from Rachel Bennette's shallow screenplay, have reduced Guy de Maupassant's portrait of corrupting ambition to a risible bodice-ripper.
Click
HERE
if you want to continue reading and be annoyed.
Movieline
sounds like the ones above:
They're the ones you remember, from Uma Thurman's politically astute Madeleine Forestier, to Kristin Scott Thomas's mouselike, aging skinny-minny Virginie Walters, to Christina Ricci's Belle Époch sexpot Clotilde de Marelle. Pattinson, despite the fact that his character is trying to dominate these women, looks a little afraid of them: Perhaps paradoxically, he has more erotic wattage when he's playing wan Victorian valentine Edward Cullen, his character in the Twilight movies. Here, in his stiff collars and glossy top-hats, he looks like a very lean bird dressed up for dinner, only he's the one on the plate.
Click
HERE
if you feel like being bothered.
Review from
Variety
(contains spoilers and crap)
via
:
"I had no conception of the depths of your emptiness!" a character shrieks in "Bel Ami," and her words take on an unintended resonance as addressed to Robert Pattinson in the lead role. Displaying little in the way of wily self-assurance, charisma or gravitas, the "Twilight Saga" heartthrob doesn't exactly invigorate this flailing English-language adaptation of Guy de Maupassant's much-filmed novel about a handsome scoundrel seducing his way up the social ladder in 19th-century Paris. Showy cast and costume-drama frippery will draw some patrons, but word of mouth won't be amiable enough to push the picture beyond arthouse love nests.
Already adapted numerous times for film and television (the best known being 1947's "The Private Affairs of Bel Ami," starring George Sanders and Angela Lansbury), Maupassant's 1885 tale centers around Georges Duroy, a cold-blooded, sexually voracious schemer who ascends to a wealthy and influential position in Gallic society. His insatiable need for money and power rooted in an impoverished upbringing, Duroy is supposed to have a chilling blankness at his core by design.

But it's one thing to embody a moral void, quite another to look merely vacant, and in scene after scene, Pattinson registers a visible strain in negotiating the character's shifts from slick, droll charm to animal-like desperation and thwarted rage. The sort of self-styled gentleman who should theoretically be able to stroll into a room and mesmerize everyone in it by sheer force of personality, this Duroy instead seems to be constantly referring to mental notes from "Ladykilling for Dummies" as he mystifyingly wends his way into the sympathies of three well-married women.

Leading a pauper's existence in 1890 Paris following three years of French military service in Algeria, Duroy leeches onto an old army mentor, Charles Forestier (Philip Glenister), now political editor at the influential newspaper La Vie Francaise. In short order, Duroy is introduced to Mme. Forestier (Uma Thurman), a steely, intelligent beauty who takes a liking to him and gets him a job at the publication, essentially by writing his first piece.

When Mme. Forestier makes it clear she has no intention of being his mistress, he turns his attentions to her more accommodating friend Clotilde (Christina Ricci). Both this torrid affair and Duroy's bond with Charles prove short-lived, prompting Duroy to make warm overtures toward the buttoned-up Mme. Rousset (Kristin Scott Thomas) whose husband (Colm Meaney) is top editor at La Vie Francaise and promptly promotes the lad, nicknamed Bel Ami by his distaff admirers.

There's more to come, including two deaths, two marriages, innumerable acts of betrayal and a tedious political-journalistic subplot involving the French government and its designs on Morocco. As realized by Declan Donnellan and Nick Ormerod, longtime theater helmers making their feature debut, the atonal screenplay (by tyro scribe Rachel Bennette) never assembles these sexual and professional intrigues into a persuasively intimate portrait of a living, breathing social circle. Nor do the actors, despite their best efforts, succeed in investing the machinations with any real stakes.

Thurman has a few effective moments of wounded dignity as the tragic, fiercely independent Mme. Forestier, and Ricci is a game, sparky presence as the lusty Clotilde, who sees Duroy in the clearest and ultimately most accepting light. But Scott Thomas, whose worldly intelligence and refusal to suffer fools gladly are among her defining traits as an actress, is wincingly miscast as the woman most naively susceptible to this rascal's hollow charms.

Lest the audience fail to perceive the angst and anxiety underlying Duroy's ambition, "Bel Ami" includes regular shots of him fuming in his grotty quarters, smashing a poor, helpless cockroach with the same frenzied vigor he displays in the mechanically directed love scenes. Despite the suitably sumptuous production design and costumes, the widescreen cinematography and mise-en-scene lack a crucial element of texture; as if to compensate, nary a frame goes unaccompanied by the film's galumphing score.
via
BelAmiFilm