Robert Pattinson's limited edition & Gucci style + salmon never looked so good
While promoting
Cosmopolis
in Paris yesterday,
Robert Pattinson went on Le Petit Journal
and was a bundle of awesomeness. Typical. ;)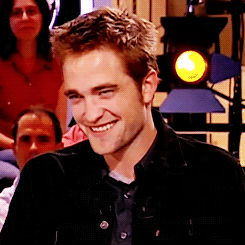 What wasn't typical was his cool, denim jacket. That unique apparel was a limited edition jacket...very limited edition. Excerpt from
The Fashion Court
:
Rob was in great spirits during his segment and was clad in a casual cool look, which consisted of dark trousers, a grey t-shirt underneath a deep grey button-down shirt, but the pièce de résistance was definitely his black jacket!

Robert is wearing one of ten limited edition, overdyed trucker jackets from Levi's collaboration with MOCA (The Museum of Contemporary Art). These graphic-back jackets were designed by some of the hottest and well-known street artists who collaborated with Art in the Streets to feature their artwork on the back of Levi's most classic jacket.

The one on Rob was designed by Chaz Bojorquez, who began his work in 1969, and features a graffiti cross above a skeleton head and a text phrase.

Looks like the talk show had Rob block out the bottom portion of the graphic.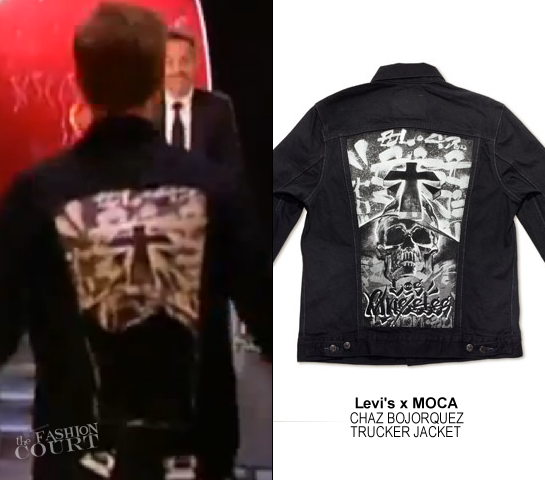 That's so cool! Rob should be outfitted in only the best and most exclusive. Even his hobo stuff is exclusive. You can't find
that
at Nordstrom's Men. Speaking of exclusively the best...
GAWD. Did he not kill with the sexy salmon?? You must have guessed who made this tailored perfection for Mr. Perfect...
Excerpt from
The Fashion Court
:
The 26-year-old actor was devastatingly dashing in a Gucci two button, notched lapel, blue plaid "Dylan" suit with a salmon fitted dress shirt and a complimenting charcoal grey "Dakota" printed tie.
...
Rob has worn a red suit before, he's been photographed in bright blue and teal for magazines and he's even been known to rock a pair of red pants on his off duty days. He's obviously not afraid of color and when he takes that leap outside of the standard black, grey and brown palette, he shines so bright. (Tink: He is the sun.)
...
Rob finished off with a pair of dark brown leather dress shoes.
Devastatingly dashing, indeed, CJ! I was positively ruined by SalmonRob.
Over 70 NEW HQs of SalmonRob after the cut!
Gifs:
Source
| HQs:
Source