It's "Cosmopolis" Day In The UK & Ireland - Spoiler Post & Review From Irish Press Screening
Today's the day "Cosmopolis" gets released in the UK and here in Ireland.
It looks like it's on VERY limited release here in Ireland.
From what I can see it's only showing in Dublin :-( ("Bel Ami" was limited but was shown around the country).
SO if you are lucky enough to have it showing anywhere near you be sure to go and see it and my advice is go more than once. It NEEDS to be seen a few times to absorb everything.
A couple of weeks ago I was lucky enough to get the chance to go a press screening of "Cosmopolis" here in Ireland.
So I headed to Dublin & prepared myself for a totally new experience. After it's premiere in Cannes and seeing some of the reviews from the critics I went in expecting Robert Pattinson to show me "something I didn't know" and as usual Rob didn't disappoint me. But what didn't expect was to be taken on a ride that would last a lot longer that the 108m 49s of the movie.
My review of the film is below. I've put it
After The Cut
(for those of you who are trying to remain unspoilt). If you go to see the movie today discuss it away in the comment section below to your hearts content.
And if you want to check out previous review posts you can find the here:
A little while ago a myself and a friend were talking movies and I mentioned that I wanted to see Rob's new movie. She asked me what it was about and I gave her the standard synopsis. She looked at me for a while and then said "No I wouldn't be into that".
I told her it wasn't the usual type of movie I would pick out either but I give all movies a go (obviously the fact that Rob is in it is another big plus) but just don't give me anything with submarines. I can't stand movies with submarines ;-}
So you can imagine what I thought when a couple of days after talking to my friend I saw an interview with David Cronenberg where he compared being in the limo with Eric being similar to being in a submarine. It's actually a really good comparison (because obviously like being in a submarine you are in the confined space of the limo and with there being no background sound from the streets you could very well be underwater) but it wasn't something that even entered my head until David said it and as much as I hate movies set in submarines being in a confined space with Eric Packer for 95% of a movie was actually a very enjoyable experience (not a surprise, right?) and one that I would like to repeat over and over again.
As others have said this is a breakthrough role for Rob, it's unlike anything he has done before and I actually forgot that I was looking at Rob on the screen. He IS Eric, he becomes Eric, body and soul.
As we go through the movie there is such a change in Eric, just like the limo he starts out pristine and perfect and by the end shows all that he has been through throughout the course of the day.
At the beginning of the movie Eric is a man, who to me, was almost not human. He's like a human robot, a workaholic, hiding behind his dark glasses, perfectly dressed with his perfect hair (which did not need to be cut).
I found myself with tears in my eyes at Eric getting upset over the death of Brother Fez, such an emotional scene and Rob played it perfectly. As the movie went on we started to see a more human real man and by the end I actually felt quite a lot of sympathy for Mr Packer.
For me the whole "going for a haircut" was actually about going back to his youth, going back to where he was from, where he felt safe. It's as if he woke up that morning and knew that this was the day things were going to change and he needed to go back in time.
The scene in the barbers shop was one of my favourite scenes in the movie. Eric sitting in the barbers chair having his hair cut. He looked like a little boy again. So full of emotion, listening to the barber talk about his father and about when he was a child. In those few minutes he seemed to forget about everything and was transported back to when he was a carefree child.
It's funny because even though this WAS one of my favourite scenes it was also one of my least favourite because I couldn't help cringing at the barber hacking away at Rob's hair.
Watching the movie in a room full of (mostly male) critics is a totally different experience to watching with a regular audience. I love to listen to the reactions of the audience but with the critics there are no reactions as such. There were 3 parts of the movie that got laughs one was from the critics when Eric spoke about buying the planes and the chuckling was at
"It carries nuclear bombs & missiles. These were not included in the deal"
The other laughs were from me. The first part that got me chuckling was the pap scene because I could imagine Rob getting a kick out of giving people migraines from all the flashing of the cameras. I actually had to close my eyes at one stage it got so uncomfortable and the other was probably really inappropriate because it was actually after Eric shot his hand. I got a fit of the giggles mainly at the surprised reaction Eric had that shooting his hand would hurt. It was priceless (to me anyway)
Onto the sex scenes, Oh My! They were SO intense. Tink had asked me (before she saw the movie herself) how they compared to the "Bel Ami" Sex scenes. The only thing I could say was the "Bel Ami" scenes were romantic these ones were raw and almost animalistic. There was no comparison as far as I was concerned.
Rob had been saying he didn't know how steamy the scene was between him and Juliette, believe me IT WAS STEAMY!
Every one of the sex scenes were steamy and I'm including the prostate exam scene as a sex scene because even though it's not technically a sex scene the sexual tension between the two characters was electric.
Of course the scene with Kendra (the bodyguard) was the hottest of them all. It really took all my willpower not to make any noises in the cinema.
You all know at this stage that I have a "little" obsession with Rob's hands and my God his hands were everywhere. If I was Patricia I think I would have passed out filming that scene. I can't even say for sure that I didn't pass out just watching it, especially when Eric put his finger in Kendra's mouth!
When talking about "Cosmopolis" David Cronenberg said it was unlike other movies in the cinemas at the moment. They provided you with an instant sugar hit.
He was right, "Cosmopolis" doesn't give you that sugar hit, it gives you something much better. It's like a slow release carbohydrate. It's nourishment for your brain.
It's definitely a movie to get you thinking.
What you end up thinking is a whole other story and I think each person will come away with something different.
Don't go into this movie expecting to make sense of what's going on, don't TRY to understand it just let it take you through the twists & turns of the streets of NY and don't be afraid to go down those dark alleys with Eric.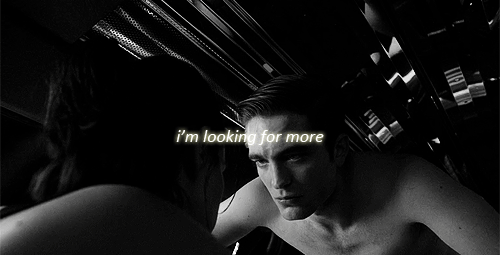 If you're looking for "something more" from a movie and the best performance from Robert Pattinson to date then this is the movie to go and see.
If "Cosmopolis" is a taster of things to come from Rob then we are in for a great ride and I for one (as always) will be jumping aboard whatever form of transportation he is providing.