UPDATED Post: Added You Tube
*NEW* Interview Robert Pattinson Talks To BBC News About Navigating Through "Cosmopolis" & More
You tube
or Click on the screencap to watch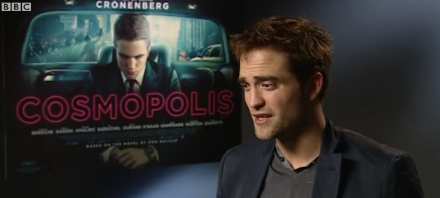 Actor Robert Pattinson has predicted that his new art-house film Cosmopolis will be embraced by Twilight fans.
"Some of them will just want you to play vampires, but most people don't want you to repeat yourself," the Briton told the BBC.
The heart-throb, who played Edward Cullen in the Twilight films, also defended his fans from accusations that their dedicated behaviour was "crazy".
Cosmopolis, directed by David Cronenberg, opens in the UK this week.
The film, based on the novel by Don DeLillo, was a contender for the Palme d'Or at the Cannes Film Festival in May.
The cast also includes Juliette Binoche, Paul Giamatti and Samantha Morton. Pattinson's role as Wall Street billionaire Eric Packer is a far cry from his Twilight character.
The story begins with Packer setting out for a haircut in his stretch limousine. The car journey across Manhattan is punctuated by casual sex, abstract conversations and violent street protests.
At one point, Packer receives a prostate examination in the back of his limo and later gets a cream pie in the face from an anarchist.
"It's nice to do a movie where there's at least one scene you know is never going to be repeated," said Pattinson.
Asked what his Twilight fanbase would make of the film, the 26-year-old star said: "I think a lot of them will really connect to it. Over the years, people kind of get an idea of what you're trying to do.
"Some of them will follow - some of them will just want you to play vampires, but most people don't want you to repeat yourself. So hopefully they'll like it."
Twilight fans, he suggested, had come in for unfair criticism.
"People put down Twilight fans, but yesterday I got given on the red carpet in Berlin all these books from people who are lined up in the rain and are probably judged by everyone to be crazy.
"I got a signed first edition of the Martin Amis book, Money; a Lawrence Ferlinghetti book; the new [Michel] Houellebecq book. All these people come up and give what they've been reading and found interesting. This is not giving you teddy bears!"
'Really weird'
Cosmopolis was Pattinson's first film after finishing work on the Twilight franchise.
Next up is Mission: Blacklist - a thriller about the true story of military interrogator Eric Maddox, who spearheaded the capture of Saddam Hussein.
Pattinson may also be reunited with Cronenberg on a planned project Maps to the Stars, which would see the Canadian director shoot for the first time in the US.
"It's about child actors going crazy," explained Pattinson. "The script is really funny and really weird, and captures the insanity of most actors."
Cronenberg's recent films include A Dangerous Method, Eastern Promises and A History of Violence.
He is closely associated with the "body horror" genre through his 1970s-80s films such as Rabid, Scanners, Videodrome and The Fly.
Source
BBC News
Thanks to
@JSukari
&
@Pingvingirl
for the tip!