New/Old Picture of Robert Pattinson from the 2011 Golden Globes
The
Golden Globes facebook page
shared a new picture of Rob with his agent, Stephanie Ritz, back from the 2011 Golden Globes. He looks fantastic and it only makes me hope like crazy we'll see Rob grace a red carpet during award season.
Photo caption:
Robert Pattinson, of Hollywood by way of Hogwarts, is now playing one of the most coveted parts in the history of casting: Edward Cullen, the adored vampire of Twilight fame. He had already shown his young rebellious fangs in Cronenberg's Cosmopolis, earlier this year. Blockbusters or independent films, he likes to tap into different sensibilities. His radar is on. But so, apparently, are his feelings. "I've always been a bit of a romantic. I have just been very sensitive", he told us. And then, between laughs, says: "You spend a lot of time crying. I cry very easily. Yeah, I have to take the girl's place in a relationship".
HQ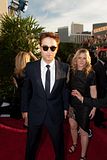 Revisit some more HQ pictures of GoldenGlobeRob after the cut!