"Ever-Adventurous" Robert Pattinson's 2016 films make most anticipated lists (that aren't made by us ;)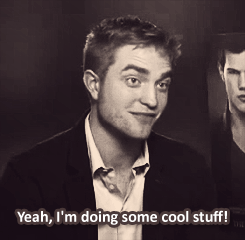 As you know, for 2016, we're anticipating
The Lost City of Z
,
The Childhood of a Leader, High Life, Good Time, The Trap
and
Queen of the Desert
. Excellent stuff. Who's that actor in all those movies again? ROBERT PATTINSON. We can't wait. :)
The Playlist
and
Ioncinema
are also anticipating some Rob films so maybe they can sit with us.
The Playlist
completed their top 100 and 2 of Rob's films make the top 20. Quite the ranking. In the top 10 at #9, we have
The Lost City of Z
!
9. "The Lost City of Z"Director: James GrayCast: Charlie Hunnam, Robert Pattinson, Sienna Miller, Tom Holland, Angus McfadyenSynopsis: A group of British explorers search for a colonel who goes missing trying to find a lost city somewhere in the Amazon.What You Need to Know: Although he frequently earns comparisons to his New Hollywood buddies Quentin Tarantino and Paul Thomas Anderson, it's easy to forget that James Gray is only five films into an already-impressive career. "Little Odessa," "The Yards" and "We Own the Night" are moody, classicist crime dramas indebted to the work of Sidney Lumet and Francis Ford Coppola, while "Two Lovers" and the mesmerizing "The Immigrant" respectively tackled the romantic melodrama and the grandiose period epic. His newest, "The Lost City of Z," looks to be his biggest, most ambitious and perhaps strangest film yet. The unforgiving jungle locale hearkens back to the early, dangerous cinema of Werner Herzog, and something about the juicy-sounding premise evokes the naturalist brutality of Joseph Conrad's "Heart of Darkness" and the inarguable classic film the novel inspired, "Apocalypse Now," which is one Coppola classic that Gray's never borrowed from. As far as we're concerned, Gray is five for five at this point, and we can't wait to see what the director has up his sleeve with this epic-sounding drama.Release Date: Gray's a favorite at Cannes, so if it's done in time, expect it there.
And at #13,
The Playlist
is all about Rob's film with Claire Denis:
13. "High Life"
Director: Claire Denis ("Trouble Every Day," "White Material")
Cast: Robert Pattinson, Patricia Arquette, Mia Goth
Synopsis: A group of criminals agree to go on a suicide mission into space in the hope of finding alternate energy sources, and to take part in experiments in human reproduction.
What You Need To Know: If we could have guessed what arthouse queen Claire Denis would do next after the brutal "Bastards" from a few years ago, we wouldn't have said 'sci-fi starring R-Patz.' And yet here we are, with Denis gearing up to shoot her first English-language movie, one excitingly penned by the great Zadie Smith and her partner, poet Nick Laird, with the ever-adventurous Pattinson and recent Oscar-winner Patricia Arquette starring. Though the subject matter is unusual for Denis, she's never been afraid to play with genre, and it thematically should be up her street. In fact, the only reason this isn't higher is that, depending on the amount of effects involved, it's not entirely certain whether it'll be ready for this year.
Release Date: Shooting begins shortly, and given that, "Bastards" aside, all of Denis' recent movies premiered at Venice, that would be the best bet if it's done in time.
They also gave a final and special shoutout to
The Trap
. It didn't get ranked because all is quiet on the waterfront for the film.
Special Mention: We're Not Sure If This Is Still Happening in 2016, But It's Highly Anticipated If It Is

"The Trap"
Director: Harmony Korine ("Trash Humpers," "Spring Breakers")
Cast: Idris Elba, Benicio Del Toro, Robert Pattinson, Al Pacino, James FrancoSynopsis: A gangster rapper is targeted by an ex-con recently released from prison.
What You Need To Know: As far as candidates for mainstream crossover status go, we'd have had indie world enfant terrible Harmony Korine fairly low on the list, and yet "Spring Breakers" proved to be a substantial hit in 2013, proving the eternal appeal of James Franco, as well as young women partying in swimsuits. It's taken a little time for Korine to follow it up, but "The Trap" could end up making even more of a splash —if it's still happening, as word's been very quiet since the summer. A crime thriller, the director called it "sensory bombardment… a super propulsive, pretty highly violent revenge movie," which sounds alright by us. He's got a great cast lined up (assuming everyone's still involved: schedules change, and if it is keeping to the original plan, it would clash with Benicio Del Toro's "Star Wars" shoot), and we can't wait to see what kind of bonkers fever dream he cooks up this time. If we were 100% sure that this was definitely going to be released this year, it'd undoubtedly be in our top five.Release Date: The film was supposed to get before cameras this month. Assuming that holds, it could be ready for a Venice premiere, as "Spring Breakers" did.
IonCinema
had their eyes on one thing and one thing only -
The Lost City of Z.
#3 out of 25 Most Anticipated Studio Films:
Next, we have another long gestating project, The Lost City of Z from the consistently underrated James Gray. He's now finally in post-production on the Paramount production which stars Charlie Hunnam and Robert Pattinson in a film inspired by British explorer Perceval Fawcett's ill-fated attempt to discovering the fabled kingdom of El Dorado. Gray adapts himself from a book by David Gunn, and considering his acclaim in France (his last four films have all competed for the Palme d'Or at Cannes), this may be the rare studio feature that makes the cut in 2016. (Paramount Pictures – Release: TBD)
We can't wait for those and ALLLLLLL of them!