UPDATED Better Translation Added. Thanks A Million to Loisada
.
Magazine scans, thanks to
rpattzrobertpattinson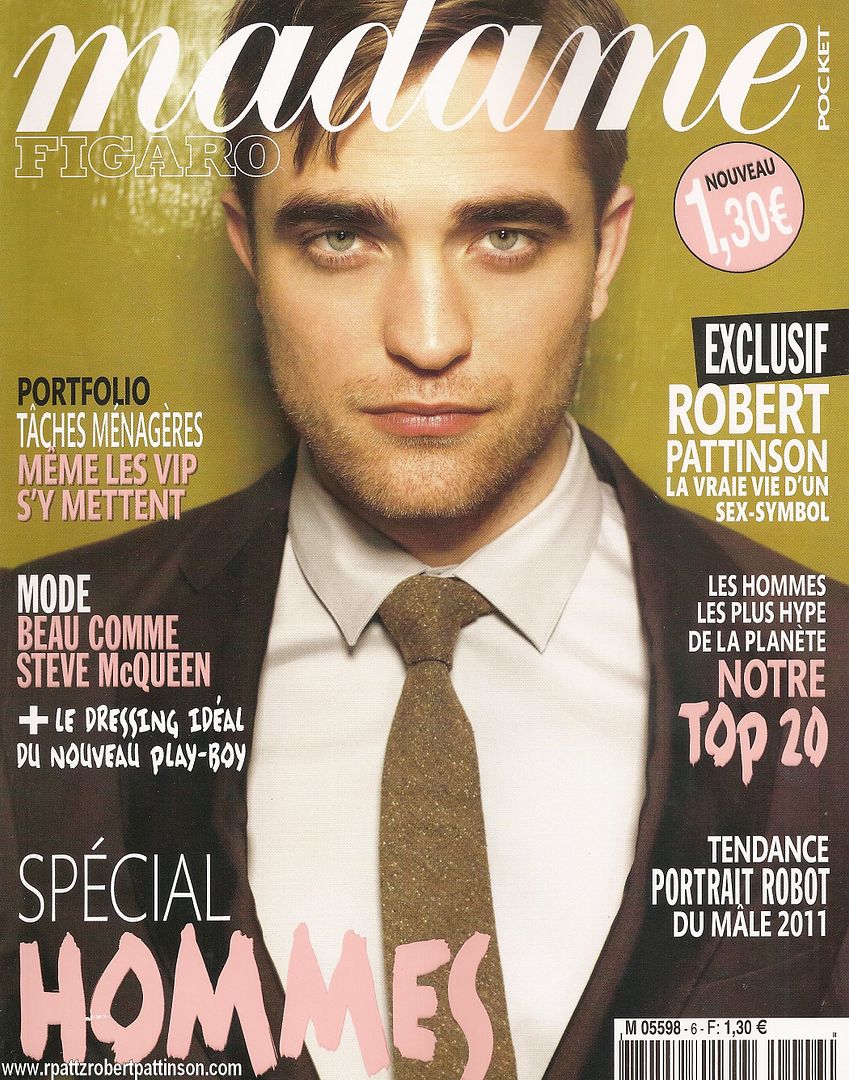 Click and Click Again for Larger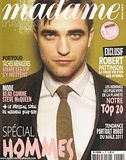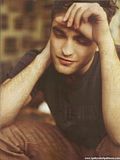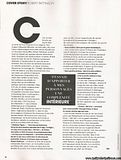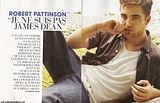 "I'm Not James Dean"
At age 25, the world's most famous vampire is moving away from the Twilight zone to reach for new horizons. In Water for Elephants he plays an elephant handler caught up in a tumultuous love story. An idol with less sharp teeth but wide ideas confides his thoughts to us in Hollywood.
It's a rather moony soul who welcomes us in his suite at the Four Seasons in Los Angeles. A long spindly figure with a pale complexion and melancholy blue eyes, running his right hand through his tousled hair to tame it, Robert Pattinson seems caught up in some silent reverie that we pull him out of with our questions. Polite and British to the very tips of his artfully unlaced Dr. Martens, he comes back down to his life on earth.
A life chronicled in minute detail in the tabloids: a kiss given to Kristen Stewart on the set of Breaking Dawn in Rio de Janeiro, a birthday party at a friend's house, arriving at Vancouver Airport, getting a dog and setting Twitter buzzing... With his entire life chronicled in real time, you'd almost forget he's an actor.
But at age 25, the vampire dandy is trying to stretch his wings. He's getting ready to film Cosmopolis with David Cronenberg, an adaptation of Don DeLillo's cult novel. And we'll see him on the screen in May in Water for Elephants, starring with Reese Witherspoon and the unsettling Christoph Waltz (brought into the limelight by Quentin Tarantino in Inglourious Basterds), in the role of an animal handler who's madly in love with a beautiful married woman. An encounter with an enigmatic icon, an old-school yet very "now" young man, a rebel and a conformist, a handsome aristocratic punk for budding* young girls. (*TN: word play on Proust's novel)
Madame Figaro. - You shoot a lot. In addition to the last two films in the Twilight series, we'll see you in June in Bel Ami, from Declan Donnellan and Nick Ormerod, and soon in Water for Elephants, from Francis Lawrence. What attracted you to the role of Jacob Jankowski, a circus animal trainer?
Robert Pattinson:
First, the book by young writer Sara Gruen, a tremendous success in the United States. The action takes place in the 1920s, in a traveling circus. With this role, suddenly I had the opportunity to leave behind the fantasized modern world of Twilight and live among animals, and touch concrete things.
You seem drawn to a romantic past...
- Yes, I love the history of America, it's one of the things that really interests me. When I read the script, I was hooked immediately. It seemed obvious, and easy. Jacob is a tormented and mysterious soul. He lost his parents, he doesn't want people digging around in his past. So if he joins this traveling circus, it's to prove himself as a veterinarian. He doesn't know he's going to experience a violent and forbidden love there as well.
Your (acting) profile is taking shape: a lonely, misunderstood and very attractive man. All your characters have that in common.
- That's true. It's as if Edward, the hero of Twilight, was the guiding thread running through all these roles. Jacob sees things in black and white. And Edward is always making distinctions between good and evil. My characters are Manichaean, in a way. That's why I try to give them inner depth.
So how did you work in Bel Ami? Georges Duroy, the novel's hero, is older than you.
- It had me hesitating, then I just threw myself into it, because Maupassant is my favorite French writer. Bel Ami is a timeless classic. We had lots of fun with Uma Thurman, Kristin Scott Thomas and Christina Ricci, my screen partners. I focused my acting on the character's great freedom of action. Bel Ami is an animal. He's my first character who's completely cynical yet ironically quite honest. But he's destructive. He plays a game where no one respects the rules, where everyone has love affairs, where high society puts on a big fake show, where pretending is the most important thing. He doesn't give a damn, he does whatever he pleases, and that's exactly what appeals to women.
A bit like you, in short...
Oh no! I'm not a Don Juan at all. All these fans taking pictures of me, these blogs, this buzz... I don't get it, but it's actually pretty cool. Honestly, I have no sex appeal. All you have to do is walk around Los Angeles, London or Paris, and you'll find tons of guys like me. I'm no James Dean.
But you've got a rebel side, a dark side. Who are your models, your favorite movie actors?
- From James Dean, who only made three movies, I like Giant with Elizabeth Taylor. But for me, the great icon of the sixties is Marlon Brando, with that inner rage, that duality of masculinity and hidden tenderness. I'm also a fan of gangster movies with James Cagney and Paul Newman, especially Cool Hand Luke. As for actresses, I love Isabelle Huppert and actresses from the golden age of Hollywood, like the smoldering Ava Gardner, and Katharine Hepburn, so classy and rough and funny. Kristen Stewart, whose acting I really admire, has bit of Hepburn in her.
Audrey or Katharine?
- No, Katharine. I'm not an Audrey fan. I know girls of my generation like her, but I find her a bit too girly.
What kind of women are you drawn to?
- I don't dislike brainy girls. For a girl to attract me, she has to be pretty determined, has to have a good idea of what life's about, and be a big reader. But I can't say I prefer blondes, brunettes or redheads. I like emotional, elegant women - elegant in the sense she knows what suits her and what doesn't. Designer clothes don't guarantee you look good, just because they're expensive. I think you have to just be yourself. That said, I love the Chanel look, even on really young girls!
What about you, are you a fashion victim?
- You see this gray jacket I'm wearing today? Well, I found it in an old suitcase at my house. I had it when I was 15. It's an Agnes B., vintage 90's, and it still fits. Otherwise, I'm a fan of Marc Jacobs, Proenza Schouler for girls and boys, and I buy lots of Dries Van Noten pants. Fashion is very important, including in movies. I'm thinking for instance of Jean Paul Gaultier's work in The Fifth Element, which gave the film its signature look.
Do you wear any fragrance?
- My own, my body odour. (Laughter.)
What project are you really excited about right now?
- Well, one morning the phone rang and David Cronenberg was on the line. He offered me a role in his next film, Cosmopolis. It was almost as if Hitchcock had sought me out. Cronenberg is a great director. And the good news kept rolling in: Juliette Binoche will be starring alongside me, and also the very talented French director-actor Mathieu Amalric. And the icing on the cake: it's an adaptation of a novel by Don DeLillo, one of my favorite authors. It's a really hard role, a crazy day in the life of a millionaire whose life gets turned upside down in twenty-four hours. I'm gearing up to film it, it's really exciting.
How do you spend your days, when you're feeling lazy?
- Well, the problem is, I don't know what being lazy is anymore! I'm filming all the time. My life consists of working, that's it. And besides, I don't have a real home now. My home is a hotel. There are advantages, obviously: your room gets cleaned every day. But I'm starting to feel a bit rootless. I could even list the hotels I prefer around the world: in Rome, it's the Bernini Bristol, a charming palazzo; in Paris, the Crillon. Whenever I have an hour of free time, I play my guitar, but mostly I read, I devour it.
Modern writers?
- A bit of everything. I started Underworld by Don DeLillo, and French novelist Michel Houellebecq is one of my favorites. In The Art of Struggle, he wrote this sentence that really resonates with me: "We've struggled through hardships and desires, without recapturing the taste of our childhood dreams." I feel close to Houellebecq's heroes.