In a recent interview Chris Weitz spoke about what he wishes for Robert Pattinson, Kristen Stewart & Taylor Lautner in the future and also about what scene he's most looking forward to seeing in "Breaking Dawn".
"I really want to see how they're going to figure out the part where the vampire baby chews its way out of Kristen Stewart's stomach," said "New Moon" director, Chris Weitz, when we recently asked him what he's looking forward to seeing in the final "Twilight Saga" movies.
Chris quipped with a smile, "I certainly wouldn't know how to shoot that. I'm sure Bill Condon is going to figure it out, because he's a terrific director."
As for the future of Kristen Stewart, Robert Pattinson and Taylor Lautner after "The Twilight Saga: Breaking Dawn" Parts 1 (to be released in November this year) and 2 (next year), here's Chris' wish for them: "For the three leads, they're going to need to handle this last tsunami of publicity and distinguish themselves in other films."
"With Kristen, she has always done terrific independent-film roles, and that's great," said Chris, who also directed the memorable "About a Boy," "The Golden Compass" and, now, the acclaimed "A Better Life." "Rob is doing that sort of thing, too," Chris pointed out. "Rob is filming with David Cronenberg ('Cosmopolis') now. Taylor is carving a different path in action films."
"I want to see them succeed," Chris stressed. "I want to see them retain their essential humanity. I like them very much. What I also wish for them are happy lives that aren't impinged on too much by the downside of the great things that have happened to them."
Source
Chris also metioned Rob on his twitter
the other day.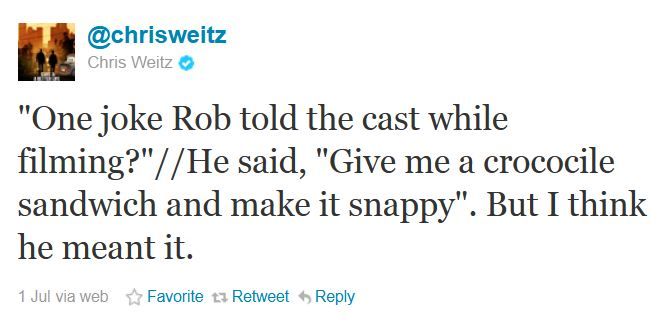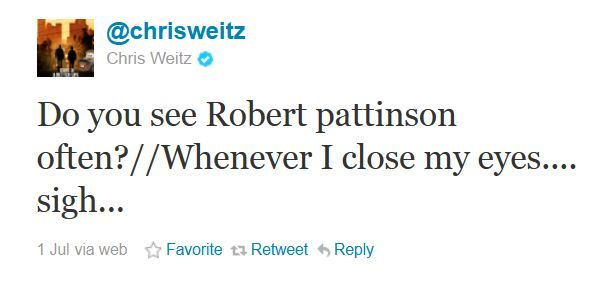 LOL I think we're all with you there Chris! :-P