The lovely
@TwiloveSue
was lucky enough to meet her fairy godmother when she went to Comic-Con oh and she also got to meet Robert Pattinson.
Read her great account of how it happened below.
Also some more new fan pics from the "Breaking Dawn" Panel. Thanks to
Pattinson Post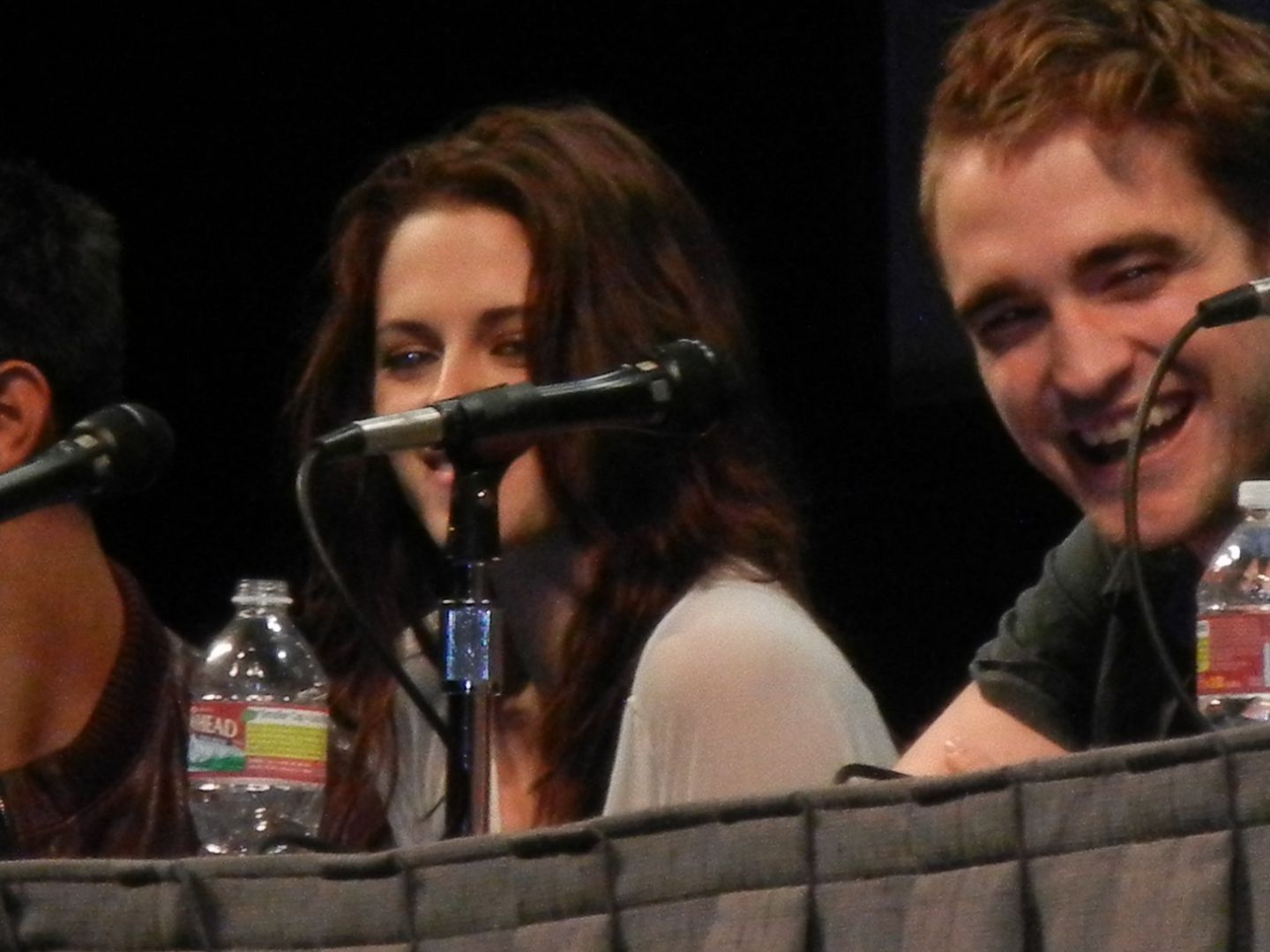 Click for Larger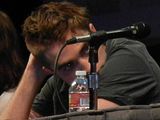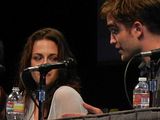 I attended Comic-con a few weeks ago with one goal in mind: to get as close to Robert Pattinson as possible (without getting myself arrested or becoming the lead story on Access Hollywood).
(Kate:Sounds like a good plan)
On the first day of Comic-con after several cast members visited us in line and Summit brought us breakfast, they held a raffle for the first 300 people in line to have a chance at 50 wristbands for a private autograph session with Rob, Kristen, Taylor & Bill Condon. Unfortunately, I didn't win, but my most awesome friend 17foreverLisa (Kate: Read her story
HERE
) did along with one of the girls in the group in front of us.
Our group got split up in the stampede, but Twi-daughter Nicole, 17foreverLisa and I did manage to get 2nd row seats together.
Before the panel started, I turned to Twi-daughter Nicole and said, "I wish I could have met Rob today, but I know it will happen sometime." As soon as I said that, a lady tapped me on the shoulder and asked if I was leaving right after the panel and could she have our seats in exchange for her wristband to meet Rob!!
(Kate: OH.MA. GOD)
I nearly died on the spot. Luckily she didn't ask for my firstborn child, because Nicole was conveniently right there with me and I would have gladly traded her into a lifetime of servitude for a wristband. It's quite likely that woman was my fairy godmother.
(Kate: Talk about lucky)
After the panel was over , Lisa and I scurried off to the secret room to line up for the signing. They let us go in a few people at a time and I swear to you, I almost couldn't breathe when I saw Rob mere feet away. Taylor, Rob, Kristen and Bill were seated at tables all in a row and we were each given a Breaking Dawn poster to have autographed.
I moved down to Rob's table and said hello to him with a big, dopey grin on my face. He smiled and said hi (I'm pretty sure I heard a choir of angels singing in the background)
(Kate: Bet you did)
and then he asked me "what does it say on your shirt?" I moved my CC lanyard out of the way and basically leaned forward with my chest stuck out (I'm such an idiot) and he read out loud "Ciao Volturi" (it had a cartoon picture of Alice in a yellow porche) and then he laughed and said, "that's funny."
You'd be very impressed at how cool and normal I acted (I think). I thanked him for coming to CC and said I was looking forward to seeing Breaking Dawn. I also told him that I was one of the dorks who waited in line for the past few days for the panel and he gave me a really funny, smoldery look, like "no you didn't...!" and stared straight into my eyes and smiled.
(Kate: *sigh*)
I kind of shrugged and rolled my eyes and said, "I know...."
I told Rob how much I've enjoyed all of his movies and that it was really great to meet him. I also joked that I wouldn't talk while he was signing his name because I didn't want to make him mess it up (or something stupid like that) and he laughed. I tried not to be too gushy, but I'm sure I was.
Head over to
Sue's Blog
to read the rest!