I think it's only fair to let you know there are a few spoilers below
Yes can you believe it? I saw DuRob and I lived to tell the tale!
I knew it was my duty to come back and report to you all. I think that's the only reason I managed to survive.
If there's anything I haven't covered in my review or anything you specifically want to know make sure and ask in the comments and I'll try and answer as best I can (IF I can remember, I'm still in a bit of DuRob haze :-))
Also the directors Declan Donnellan and Nick Ormerod introduced the movie at the festival and were supposed to be doing a Q&A afterwards but for some reason that didn't happen.
I videoed the introduction where they spoke about the movie and Rob (it's funny) so in case you missed it, you can check that out
HERE
As you all know, I was
beyond
excited to have the chance to see the Irish Premiere of "Bel Ami" at the Jameson International Dublin Film Festival last Sunday.
I went in to watch the film with an open and unbiased mind as possible because I wanted to give a frank and fair review and not just talk about Rob's ass (as fine as it was) because believe me there is a LOT more to "Bel Ami".
You can see that it really was a labour of love for all those involved.
So here goes..........................
The movie is beautifully shot, hard to believe that it's Declan Donnellan and Nick Ormerod's first time directing a movie. The sets that they used are simply stunning as are the many close-ups of Rob's gorgeous face.
And the costumes, well, we all know how good Robert Pattinson looks in (and out) of period clothes.
"Bel Ami" is the type of movie that I wouldn't worry about recommending to my non-Rob fan friends. I'm quite sure they'd enjoy it because I feel that there is something in "Bel Ami" to satisfy everyone.
I was expecting a very dark movie and while it was quite a dark in parts I was surprised that there are quite a few light scenes that had me grinning and laughing. There were giggles from the audience throughout. The scene that caused the biggest giggle was when Georges had managed to bed all three of the women and after at dinner he glanced from one to the other and gave this devilish grin of satisfaction. You could just imagine his inner voice saying "I am the Boss"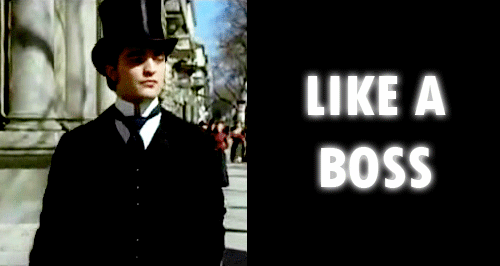 In MY humble opinion the cast have been perfectly chosen for their parts and each one compliments the other perfectly.
I was particularly impressed by Christina Ricci, Colm Meaney and (of course, goes without saying) Rob who plays the part of the irresistible Georges and finally has a chance to prove that he CAN show a full range of emotions and boy does he get the chance to go from one end of the spectrum to the other.
Georges is going to be a character that we will all love to hate (Although if
I'm totally honest I didn't hate him THAT much. Yes I like the bad boys!)
YES he did manipulate and use people (mainly the women) to get where he wanted to be but as we find out he also gets used and manipulated but still manages to have his cake and eat it and come out on top ;-}
I know you're probably all waiting for me to talk about the numerous sex scenes which start about 5 mins into the movie (with the by now infamous ass scene). You get to see Rob totally naked from behind, so as someone asked me on Twitter, no I didn't need my measuring tape.
I was quite surprised at how tiny his ass was (don't get me wrong though this is not a bad thing, there's plenty to grab onto) and SO smooth. I no sooner had a chance to take a deep breath to stop myself from passing out when it was all over. It was much too quick as far as I'm concerned, I'm greedy.
There was also an "interesting" sex scene between Georges & Madeleine. I'm curious to see how other people feel about that scene when they see it to see if they feel the same as I did.
There were SO many sex scenes that I lost count (I am NOT exaggerating).
Oh and you know the missing thrusting from "Breaking Dawn"? It's not missing here. SO much of it! And PLENTY of back muscles too.
MY favourite of the sex scenes was the montage of Georges and Clotilde. It does come across that she is the only one that he truly loves. Yes I'm a sap, but we already knew that.
Talking about favourite parts of the movie, another favourite part for me was Georges losing his temper with Virginie. Angry DuRob *fans self*. We've seen some of it already ("I despise you"), that scene is so strong and what can I say except his blood is boiling so much that his forehead veins are a-popping!
Tink asked me the other night about the soundtrack and I had to think about it because it fitted in so well in the movie that I didn't notice it that much (I guess that's a good thing).
Thinking about it more afterwards and discussing it with some of the ladies I saw the movie with we agreed that the soundtrack was very well chosen for the movie and fitting for the era it was set in.
I haven't read the book but as far as I know the screenplay stayed pretty faithful to it but this is the one thing about the film that I wish they had expanded on a bit more.
I went into the film just knowing just the synopsis of the story (just what I had seen in the trailers etc) and to be fair not a whole pile else actually happens plotwise.
I think this is why the film critics are being so tough on the film.
Don't get me wrong it didn't spoil my enjoyment of it but in the interests of a fair review I had to mention that this is the only thing I found a bit weak.
"Bel Ami" is right up there as one of my favourite Rob films SO FAR and I can't wait to go and see it again in the cinema and buy the DVD and watch it over & over.
I'm sure I missed out seeing some things the first time around (I generally do) so I will definitely be heading to the cinema again on March 9th when it is released here for another look. I'm hoping it's down my neck of the country because they did originally say it would be a limited release.
If you have the opportunity to go and see it, make sure you do!
You won't be sorry and try and persuade your friends to go, even if they're not Rob fans, they WILL enjoy it, I promise.
AND it will give them a chance to see that there is more to Rob than just Edward.WE know this long ago but unfortunately some don't.
If this is just a taster of things to come then I can't wait to see more of what Rob has in store for us.
We were asked afterwards to rate the movie at the festival and I gave it 4 stars, which was top marks.
Why did I give it top marks? Well because I like to enjoy myself at the movies and I really did enjoy it.
What did I enjoy?................"Everything"