Longer Backstage Video of Robert Pattinson at the MTV Video Music Awards + Fashion Update!
Love it! You see Rihanna and Rob hug it out in the beginning also the video is a little longer than our previous one. You see Rob walking with Liz and Peter (Esme & Carlisle).
You remember Rob singled out the RiRi video during MTV First? Well she won for Best Video so Rob was on the right track!
Courtjustice
is still working on her overall post but she did offer up info on Rob's cool jacket. Excerpt:
If you checked out my VMAs Wish List, then you know I included a look from Alexander McQueen and a separate black bomber jacket selection for him. I'd like to think Robert took those suggestions and did one better… he wore an Alexander McQueen bomber jacket with leather sleeves! Oh, Rob. I'm sensing a trend you guys! This boy loves wearing blue and black lately, so color me not surprised that he partnered his really-freaking-cool cashmere leather McQueen jacket with a white tee, a black button-down shirt and a pair of navy denim trousers.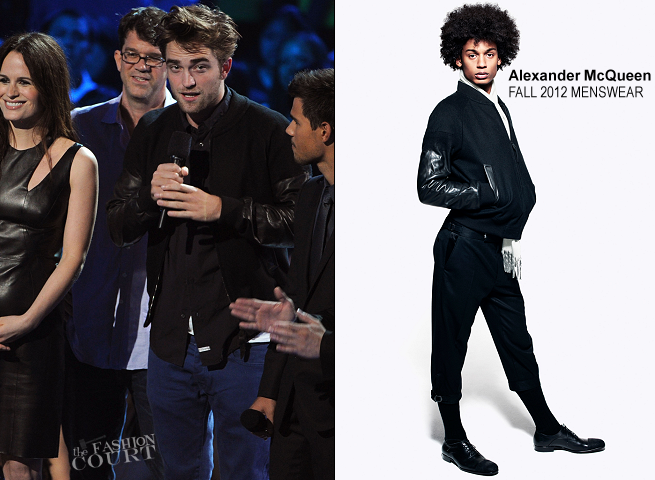 Love it. :)
Missed anything else from VMARob?
Video via:
ThoseBritBoys