ROBsessed Giveaway: Enter for a chance to have a SWEET FILTHY BOY for our Fiction Friday
Ahhhhh....we all love a sweet filthy boy, don't we?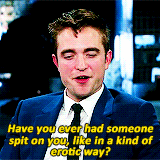 *howling* Oh Rob. KimmelRob sure knows how to let his hair down. We love us some SweetFilthyRob and he's the inspiration for this Fiction Friday.
Christina Lauren
started a new series called the Wild Season series and we're giving away the first book in the series, SWEET FILTHY BOY.
Synopsis:
One-night stands are supposed to be with someone convenient, or wickedly persuasive, or regrettable. They aren't supposed to be with someone like him.
But after a crazy Vegas weekend celebrating her college graduation—and terrified of the future path she knows is a cop-out—Mia Holland makes the wildest decision of her life: follow Ansel Guillaume—her sweet, filthy fling—to France for the summer and just…play.
When feelings begin to develop behind the provocative roles they take on, and their temporary masquerade adventures begin to feel real, Mia will have to decide if she belongs in the life she left because it was all wrong, or in the strange new one that seems worlds away.
What's also cool about this giveaway is that we're one of the featured quotes in the beginning pages, praising the book!

Time to snag this fun summer read!
Giveaway guidelines:
You only have to click a button, which you'll see when you enter. Tweeting the giveaway through Rafflecopter is optional but gives you more chances to win.
Giveaway is US/Canada ONLY
You MUST enter using Rafflecopter or your entry will not be counted

You can enter once a day, everyday, until the closing date - Friday, July 25th at 12am ET

There will be

2 winners

receiving the novel, SWEET FILTHY BOY, by Christina Lauren
Winners will be chosen by random.org and announced on Friday, July 25th
Good luck!!!
a Rafflecopter giveaway
In fanfic world, I just finished the completed story,
My Ex-Con
. I didn't know how I'd feel about this story but oh my. I loved it so much. What an amazing Edward, full of passion and heart. Give it a read if you love
counselor's
work. The E&B in this story are something else.
I'm not sure what I'm going to read next so I'll be looking to see if you guys share what you're reading in the comments.
If you want to purchase before the winner post, click the Amazon link to buy now!