Robert Pattinson playing hard to get in super cute fan encounter from the Go Go Gala (Nov. 13)
Remember this great pic from the Go Go Gala?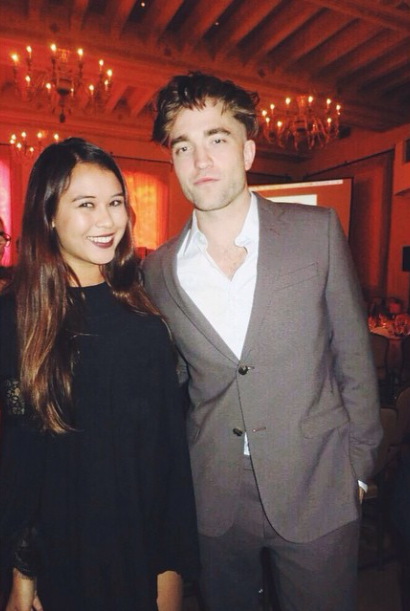 Well she wrote an account of her evening and it's too cute.
From
TealKitty
:
First things first, met my (future) boyfriend Robert Pattinson. Hey, Rob.
I attended the Go Campaign Gala last Thursday night at The Montage in Beverly Hills.
The Montage is one of my go-to places to go in west LA when I have nothing to do. My best friend Lauren and I would always go to the rooftop bar with Starbucks to kill time before going out on the town and causing trouble in my teenage years. The Montage is a gorgeous hotel and the architecture and gardens get me every time.
Go Campaign is an organization that improves equal opportunity to unprivileged children. The event included an auction to benefit the campaign and raise awareness. The venue included the most beautiful vibrant flowers scattered everywhere, handmade truffles and belly dancers.
One of the attendees of the event was Robert Pattinson. To be completely honest, I haven't even seen all the Twilight movies. After this night though, I am most definitely 'Team Edward.' And one time my dad and I drove through Forks if that counts for anything. I talked with Rob about the organization and asked him if he goes back to the UK often. Turns out that we'll both be there over the holidays. I was waiting for him to invite me go on a ride on the London Eye with him or take all the escalators in Harrods...but he didn't. Obviously my future soulmate is playing hard to get. I can play games too, Rob.
Best. <3
LARGER