ROBsessed Giveaway: Enter to win AFTER in a worldwide giveaway for our Fiction Friday!
It's another fun romp in the fiction world. This time with a British fellow. We're certainly not opposed to British fellows, are we now.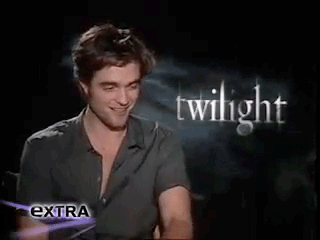 AFTER by Anna Todd was once fan fiction, racking up a billion readers online. That's crazy successful! This is the published novel of her story and the kind folks at Simon & Schuster provided us with a couple books to giveaway to our readers. The book is the first in a series, just released in October. The following books release this month (AFTER WE COLLIDED), December (AFTER WE FELL) and around Valentine's Day next year (AFTER EVER AFTER). But we have to start at the beginning with AFTER...
Tessa is a good girl with a sweet, reliable boyfriend back home. She's got direction, ambition, and a mother who's intent on keeping her that way. But she's barely moved into her freshman dorm when she runs into Hardin.
With his tousled brown hair, cocky British accent, tattoos, and lip ring, Hardin is cute and different from what she's used to. But he's also rude—to the point of cruelty, even. For all his attitude, Tessa should hate Hardin. And she does—until she finds herself alone with him in his room. Something about his dark mood grabs her, and when they kiss, it ignites within her a passion she's never known before.
He'll call her beautiful, then insist he isn't the one for her and disappear without a word. Despite the reckless way he treats her, Tessa is compelled to dig deeper and find the real Hardin beneath all his lies. He pushes her away again and again, yet every time she pushes back, he only pulls her in deeper. Tessa already has the perfect boyfriend. So why is she trying so hard to overcome her own hurt pride and Hardin's prejudice about nice girls like her? Unless . . . could this be love?
Guidelines:
You only have to click a button, which you'll see when you enter. Tweeting the giveaway through Rafflecopter is optional but gives you more chances to win.
Giveaway is worldwide
You MUST enter using Rafflecopter or your entry will not be counted

You can enter once a day, everyday, until the closing date - Friday, Nov. 14th

There will be

2 winners

receiving
Winners will be chosen by random.org and announced after the giveaway ends
Good luck!!!
a Rafflecopter giveaway
Find out the winners for THE JEWELER under the cut!
a Rafflecopter giveaway
Congrats Viviana! You're the winner of the eBook and $25 gift card! Congrats Lacey! You're the winner of the signed paperback! We'll email you for your info to receive your prize.
There's still time to enter Beck's giveaway on her blog for a Kindle Fire. The deadline is Nov. 11th and you can click
HERE
to enter that contest!
FanFic Friday:
Sear
finished so if you were waiting for it to complete, get on it. It was unexpected and awesome.
Deep in the Heart of Me
is killing me. If you're reading this, I suspect it's killing you too. I'm stressed and still stalking my inbox. WIPs are no good for my sanity. I started
One Day
and haven't finished yet because I'm reading
Sublime
(the giveaway from our birthday week). So far, the storytelling in this is vivid and unique from my norm. I don't want to give too much away until I get further but it's a complete story that's worth checking out.
If you want to purchase any of the latest books featured in this post, click the Amazon links to buy now!