NEW STILL From 'The Childhood Of A Leader' Featuring Robert Pattinson & Producer Helena Danielsson Talks Venice Film Festival
Check out this great new still from The Childhood of A Leader and an interview with producer Helena Danielsson where she mentions their hopes to clear the Venice Film Festival.
Prayer circle time....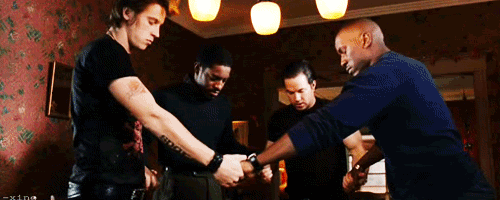 IMAGE HAD TO BE REMOVED
Translation
~using google translate (Original interview
source)
Malmo Producer makes film about the Treaty of Versailles with Robert Pattinson
An English-language feature film with Robert Pattinson is about to end. Soon await the big international film about Greta Garbo. The award-winning film producer Helena Danielsson from Malmö has his eyes fixed far beyond the borders of Sweden.
Helena Danielsson has produced such films as "Svinalängorna", "A Rational" and "The Hidden Child". A few weeks ago she came home to Malmö again after making her first English-language feature film in Budapest. A Budapest would imagine Paris in the early 1900s. Behind the movie "The Childhood of a Leader" stands actor Brady Corbet who now makes his directorial debut. Corbet is for certain known from Michael Haneke's American remake of "Funny Games" and for others from the TV series "24". And anyone who has seen Ruben Östlund "Tourist" has seen Corbet in a small supporting role.
- It is not easy if you are a young American to make a film that takes place in France in 1919. This is his dream project and is about the diplomatic negotiations after the First World War, says Helena Danielsson, who three years ago was awarded the fine producer price in Prix ​​Eurimages is the European equivalent of the Oscar.
She came in in "The Childhood of a Leader" project when the whole film work had stalled and it was difficult to fix financing. For the major US film studios, the film was too small. And while it is difficult to American director to get financing European film funds. Then came Helena Danielsson's experience of co-productions and film financing in as a savior.
- It's a little bit about how to look at problems. I was passionate about the movie and saw that I was able to find ways of financing outside the system. They had to be slick, says Helena Danielsson.
Robert Pattinson of "Twilight" films, Stacy Martin ("Nymphomaniac), Bérénice Bejo (" The Artist) and Liam Cunningham ("Game of Thrones") are some of the stars of the film which is now being cut in Paris. Music Legendary Scott Walker makes the music.
- It is a fantastic mix. We are aiming high and hope that we manage to clear the Venice Film Festival.
Source
via
sallyvg