Robert Pattinson talks about that epic red carpet look from his Harry Potter days. You know the one.
I was always fond of this look...uh...I mean, choice.
It's so insane and confident. Black leather pants and a poor fitting red velvet jacket?? Those boots? The sloppy, barely buttoned white shirt? How utterly wild. It made me adore Rob more when I first saw it. Who is this guy who would wear this?? He's wonderfully unique, that's what he is. Click
HERE
for a gallery down memory lane.
Now, over 12 years later, Rob mentions this sweet sartorial rebellion of his.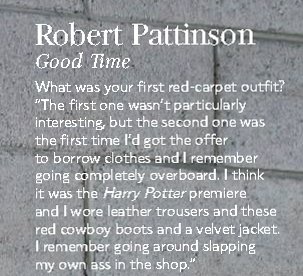 Rob is the best. Always.
Click
HERE
if you missed the pics from W magazine, sans epic quote.
Source: British Vogue Feb. 2018 |
Via