It is two years ago today that I was in the presence of Mr. Sex Hair himself - and let me tell ya, the sex hair was in full power that night (evidence below).
Robert Pattinson in all his adorkable, gorgeousness made a fleeting visit to Austin, Texas on October 18th, 2008 to help promote the film How To Be. I had seen the film a couple of nights earlier - but when I heard Rob was going to be there for the Saturday night showing, how could I not go??
I've recounted my full story after the 'break' but first, I'd like to overwhelm you with these never before seen pictures from that night. Taken by the wonderful Laura (whose recap of the night - including a sleeping husband and Rob sat ten feet away is also after the 'break') - thank you SO much for sharing his holy hotness with us :-)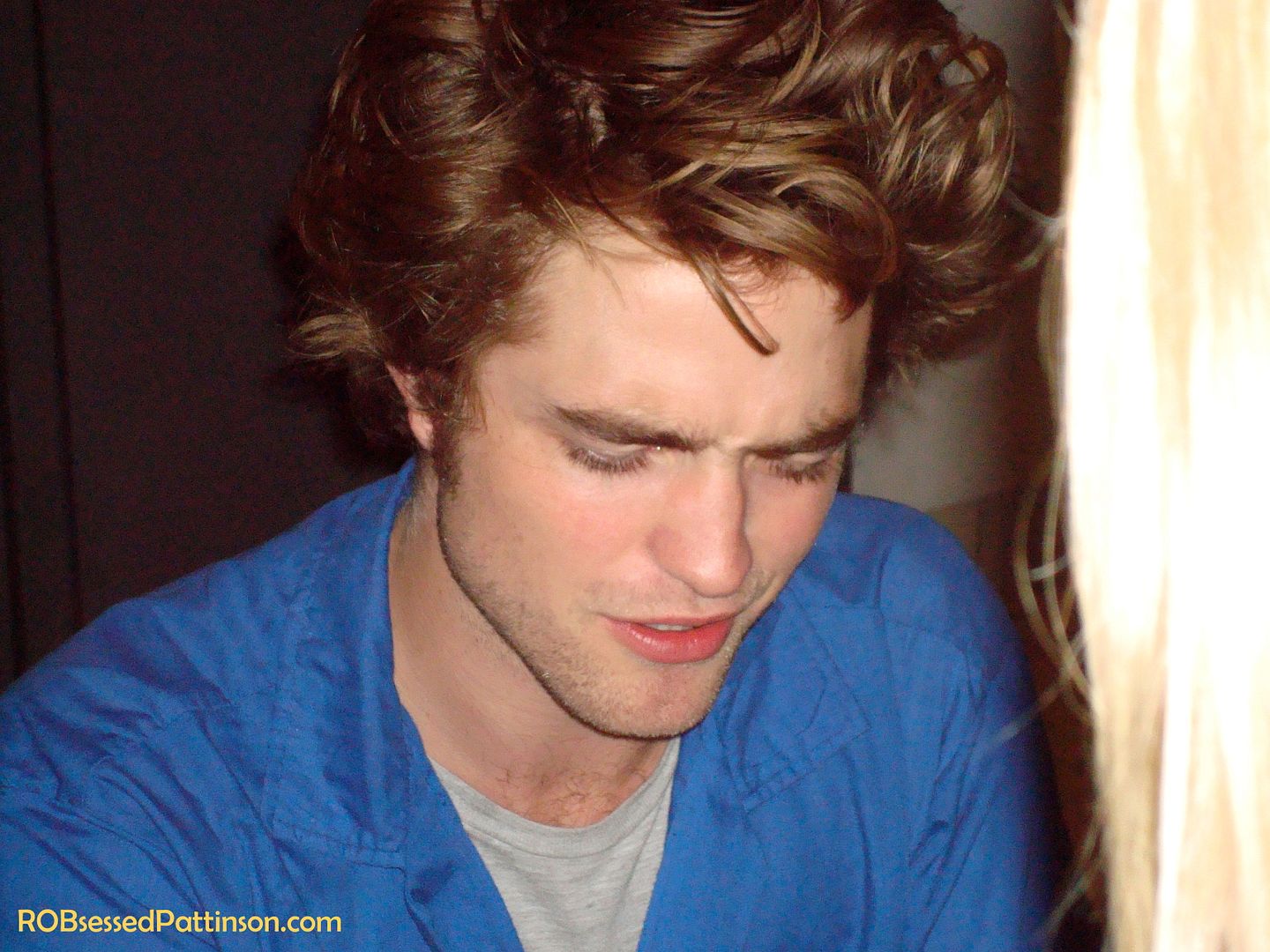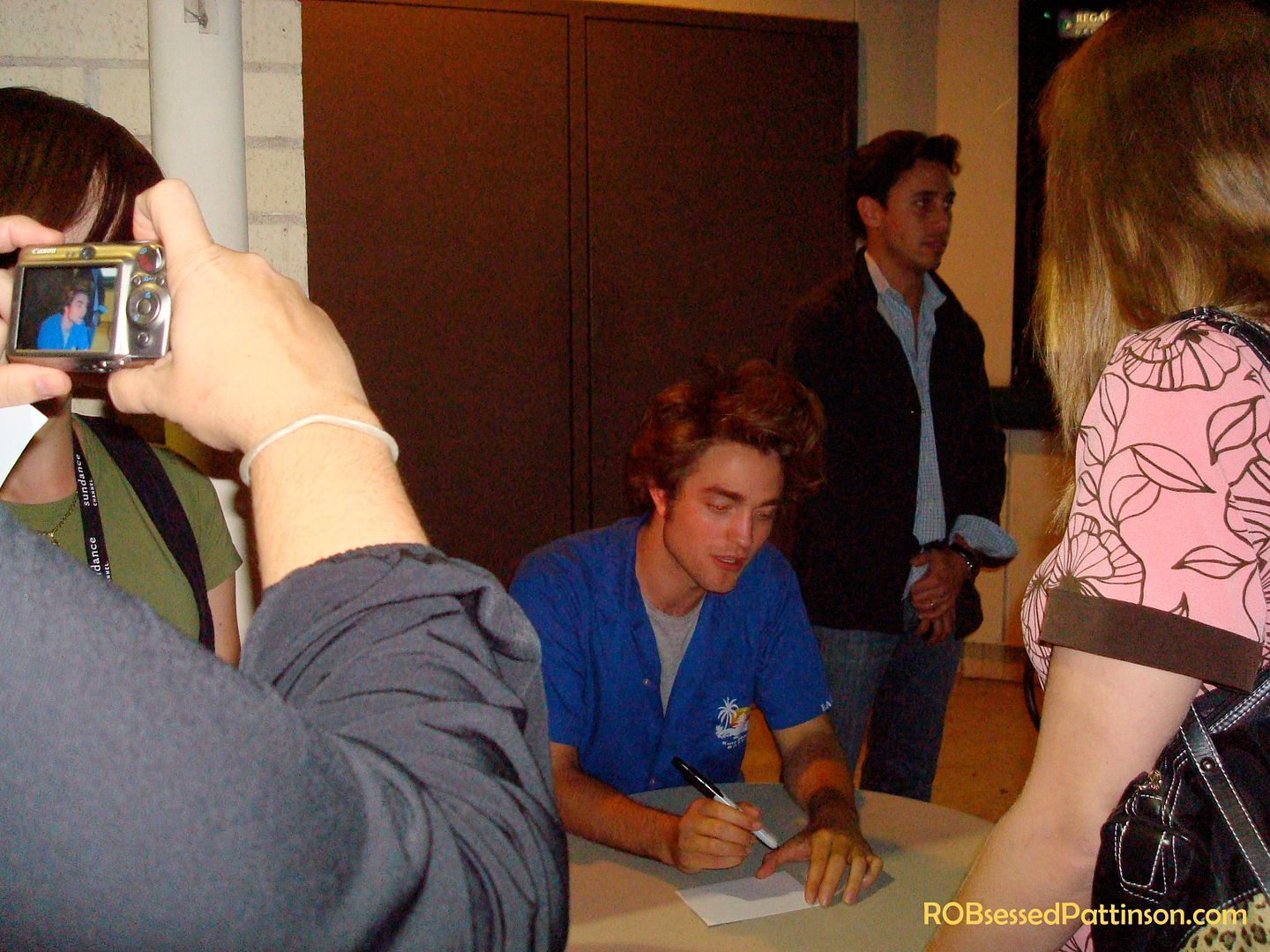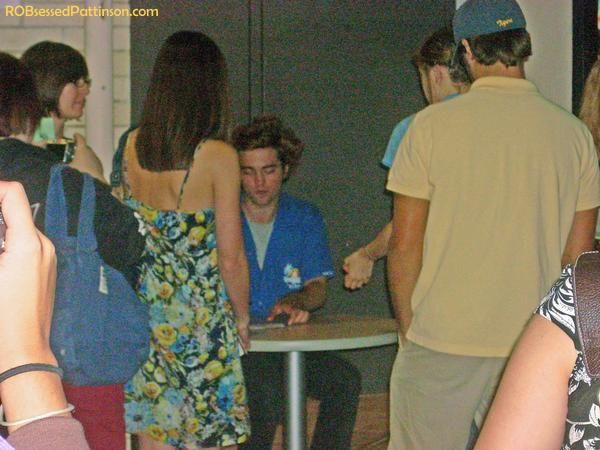 That's the lovely, lucky Laura there in the flower print dress :-)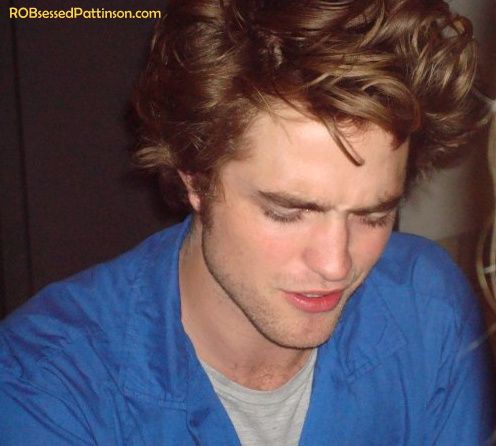 And because it just wouldn't be right to make this post without re-sharing the sex hair that stars in the photos I took, here they are, as well as a few I believe I've kept to myself, snuggled under my pillow, until now...

Check out our recaps of the night and more photos AND A VIDEO after the break!

Seven seconds of JawP0rn and a voice that could melt butter - enjoy!
Laura's recap...
It was two years ago today that I convinced my husband to drive me 9 hours to Austin, Texas for the Austin Film Festival to see Robert Pattinson. In person. He was going to the screening of How to Be for a Q&A session after the film.
When we arrived at the theater, the line was all the way around the building. Girls in "Cullen" shirts were toward the front with pillows in hand. Had they slept there? Wow. I immediately started panicking that I wouldn't get in for the screening. We waited in line for over 2 hours, with AFF officials coming outside to let us know that most of us would not get in for the screening. My hopes were low. While in line, I got to meet and take a picture with the director of the film, Oliver Irving, which was really cool.
Eventually, the line starts moving, and I'm 2 people away from getting in the theater. They stop the line right on--you guessed it--me and my husband. I was SO mad. The workers went inside to check if there was any available seating, and there was! We got seats on the last row in the back.
So, we're apparently waiting for Rob to show up, but he's late. They tell us they'll be starting the movie and we'll see him after the showing. The movie starts up and they had to restart it like 5 times because the sound/picture kept messing up. They finally got it right, and we're all happily watching adorkable Rob/Art onscreen, when I hear the back door open....I look, and THERE HE IS! Sex hair in all it's glory. Supercool leather jacket. OMG. He walks in all wonky-legged, hand in his hair, and sits in a chair in the corner in the back behind us with the director and a couple other people. I, of course, have NO interest in the movie at this point. I mean, Robert Pattinson is sitting 10 FEET behind me!! Like you would be able to focus. Finally, I get up to use the bathroom, praying to God that I don't trip in front of him. I noticed later on that almost every girl in the theater had to "use the bathroom" after they realized Rob was sitting in the back.
I keep sneaking peeks at him throughout the movie. Each time I looked, he was either talking to his friends, texting on his phone, or watching the movie! Then, I notice my husband has fallen asleep. I keep elbowing him to wake him up because I'm so embarrassed. The star and director of the movie are sitting behind us, and he's asleep. But then I remembered he drove me 9 hours to get there and so I left him alone. Rob would understand.
So after the movie, Rob does the Q&A. I'm sure you have seen videos of it online. After that, we get a huge surprise---Rob has agreed to sign autographs for us outside, which we totally were not expecting! We rushed out the back to get in the line that was already VERY long.
(And I didn't know that in the front of that line was Kat, who I had not met yet. I wish I had known her then!)
By the time they got to us, they would NOT let us take pictures with Rob. The AFF workers were very insistent about that. So, I get up close to where he is and I am just blown away with how gorgeous he is in person! I keep thinking of a cool question or comment I can say to him, but everything I run through my head sounds totally lame. When it's my turn, I say "Hi." and he smiles at me and says "Hi." I hand him my book to sign and tell him my name (Laura), and he repeats it. My name has never sounded better. He signs my autograph, hands me the book, and smiles again. I say thank you and go. I ask my husband if he got a picture or video while I was with Rob, and HE. FORGOT. TO. TAKE. A. PICTURE. I mean, he had the camera in his hand. He could have taken VIDEO. I mean, hell, ANYTHING. But no. Nothing. I only have my autograph and a picture of me from the back with Rob that I found on someone's myspace. Believe me, my husband will never live this down. So even now, any time he complains about something I do, I go, "Yeah, remember the time I met Rob Pattinson and you didn't take a picture?" That shuts him up. :)
My recap!
I had seen How To Be a few days earlier and loved it, met Oliver and thought he was just the cutest little thing, and then heard that Rob himself was going to make an appearance at the Saturday night showing.
My understanding husband and child waved me off (I'm sure I saw an eye roll from at least one of them) and with a friend in tow I set off for the theatre. When we got there it was obvious we weren't going to get to see the movie again, so all we could do was hope we got to see Rob.
While the movie played we drank it up at a local restaurant bar, I needed a little encouragement for the dry humping I had planned. Don't worry - that never happened! I was so tempted though! But anyway - by the time we walked back over to the theatre there were rumbles from those waiting outside that Rob was going to sign autographs after the show. We all started to form an orderly little line, then an AFF staff member decided to line us all up at the other side of the courtyard, mayhem ensued for a few minutes then the line settled down to a hum of excitement.
Soon after the movie let out and everyone who had been watching inside joined the queue. Next thing we knew, Robert Pattinson was right there! I was second in line so I had a great chance to snap away with my camera while he came out and got himself settled.
He was so shy and quiet, hand constantly nervously in his hair, totally overwhelmed about the fact that everyone was there for him! I asked him to sign my AFF booklet, had a brief chat about where I was from in England - the photo where he looks surprised was taken while we discussed the North/South divide :-) I congratulated him on the movie and asked for a photo with him. He obliged and I wrapped my arm as far around him as I could considering there was a table in between us (I still have horrible dreams about that table and a chainsaw to this day!!). Most people ask me how he smelt. Honestly - I don't know. I do know however that he did not smell of cigarette smoke or dirt! The hair was also freshly washed... he is even more stunning in person (yes, that's possible) and has a smile that lights up his whole face.
He spelled my name wrong on my autograph, but honestly, he could have called me Turd and I would have been happy :-)
After we'd moved on I watched him sign autographs for well over 100 people. He gave each person that genuine smile, asked their names for autographs and giggled his way through. At some point they stopped allowing pictures with him but I honestly think he would've continued if they hadn't made that decision.
We may see him grumpy at the papz, but his genuine appreciation for the fans seems to hold on strong, hearing stories of fan encounters always make me smile.
A big thank you to
Laura
for sharing her pics and her story of the night :-)