Magazine Scans: Robert Pattinson in Entertainment Weekly and People
The deceased, Robeard, makes an appearance in Entertainment Weekly.
Mourners, you know it'll be back...not until next year, but it'll be back ;)
Click to view the full scan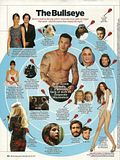 Rob & Kristen make an appearance in People magazine.
Also, People mag...everyone under the Twilight sun knows your reporting is false.......
They film in Baton Rouge...not New Orleans :)
Click to view the full scan