Robert Pattinson Is On "Entertainment Weekly's" Top 50 Most Powerful Entertainers Of 2010
ETA: Scan of Inside of mag (See Below)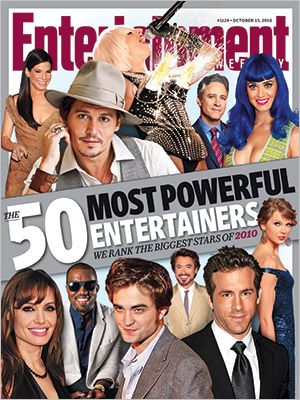 Who has more muscle in Hollywood — Johnny Depp or Sandra Bullock? Does Robert Pattinson have more clout than Simon Cowell? What about Brad and Angelina — who's on top in that relationship?
This week's EW cover story brings back The Power List, our rankings of the most influential people in the entertainment business. We started doing these rankings way back in 1990 — when names like Arnold Schwarzenegger and Madonna were up high — and have come back to it from time to time in various forms (in 2007, it was The Smart List). This year, we're freshening things up again, by focusing exclusively on on-screen talent — in other words, folks with recognizable faces only, no agents or studio suits need apply. As usual, we based our calculations on a formula that included both hard, crunchable numbers (box office grosses, TV viewers, albums sold) with less tangible factors, like a star's influence within their industry or general command of the pop cultural stage. We've come up with some nifty new sidebars, too, such as EW's first international edition of the Power List (take a bow, Golshifteh Farahani, the Julia Roberts of Iran!).
For more on Hollywood's most influential stars, pick up the latest issue of Entertainment Weekly, on stands Oct. 8.
Source EW

Rob's at 5 and Taylor's at 3??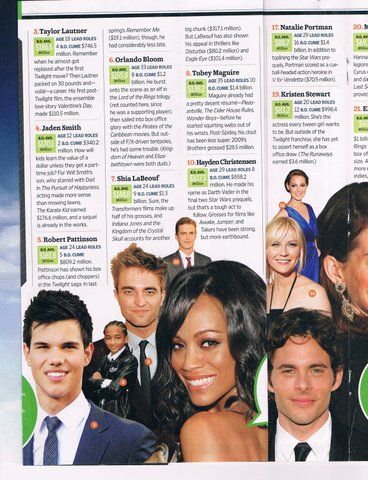 Inside Scan: Thanks To
KSpice75
Via
Pattinsonstew
via
Gossip Dance