ROBsessed Birthday Giveaway Week: Day 7 Caption Robert Pattinson!
This has been too fun! One more caption to go but before that...let's see who won Day 6...
NB!
Plaid Shirt: $45
Suspenders: $19
Rob Pattinson as your Wingman: Priceless!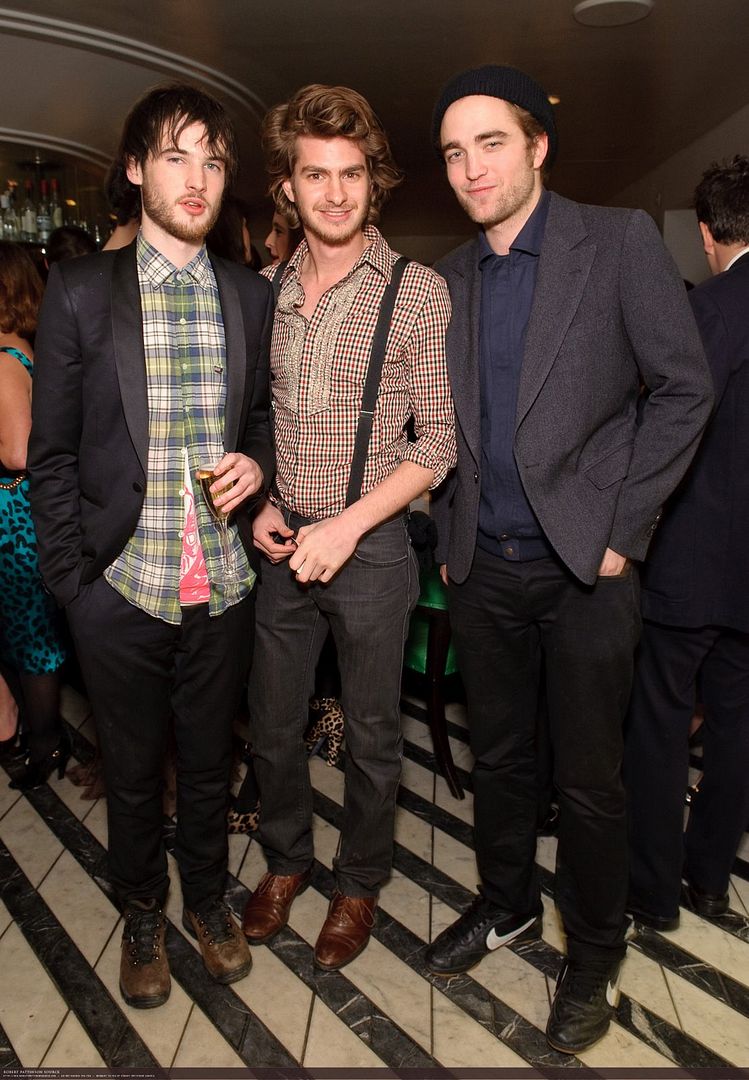 Please email robsessedgiveaway@gmail.com to select your prize.



Top 5 captions


Rubydynasty: The three finalists in the Mr. Salvation Army Contest anxiously await the judge's decision at the end of the Evening Wear Competition.
Playdohspaghetti: When Hairy Met Scary: A tragic tale of young Brit hotness obscured by facial hair, mismatched clothes and inappropriate layering.
sluttypattz: "Beanie, Beards and Brits...could you ask for anything more?"
AcdcAndreaCullen: The Good The Odd and The Hotty
jlsentangledweb: HOURS OF FUN!!! British Male Order Toys: All models come complete with interchangeable clothes, hair, and facial scruff! Three models available--the Tom, the Andrew, and the Rob. All toys measure at least 6 feet tall and come in velvet British accents. Warning: Pants may be a little tighter on the Rob model. Beer and cigarettes not included.

Now...CAPTION ROBERT PATTINSON!



The winner will win a choice of $30-$40 package:

1. Special Edititon Robert Pattinson 2011 Calendar

2. A Robert Pattinson movie: Dark Kingdom
; Harry Potter and the Goblet of Fire (Widescreen Edition) (Harry Potter 4)
; The Haunted Airman
; How to Be
; Little Ashes
; Remember Me
; Twilight (Two-Disc Special Edition)
; The Twilight Saga: New Moon (Two-Disc Special Edition)
; Bad Mother's Handbook
; Love & Distrust


3. A book Robert Pattinson was spotted reading:
The Ballad of the Sad Cafe: and Other Stories
; Doomed Love (Penguin Great Loves)
; Nine Stories
; Kill Your Friends: A Novel (P.S.)
; Independent People
; 2666: A Novel
; My Friend the Mercenary
; Tom Waits - Anthology (Music Sales America)
; Complete Poems: Charles Baudelaire


4. A book one of his movies was based on:
Twilight (The Twilight Saga)
; New Moon (The Twilight Saga)
; Eclipse (The Twilight Saga)
; Breaking Dawn (The Twilight Saga)
; The Bad Mother's Handbook: A Novel
; Harry Potter and the Goblet of Fire (Book 4)
; Water for Elephants: A Novel
; Bel Ami (Vintage Classics)


The gift will be worth $30-40 and the competition is WORLDWIDE because "you're worth it" :-)

Ready, set, GO CAPTURE CAPTION ROB!!!