UPDATE 4: Added Celebuzz Report After The Cut
UPDATE 3: Added Reports From People Mag & US Weekly After The Cut
UPDATE 2: Added Larger Uncropped version of pic of Rob & Kristen with fans (scroll down)
UPDATE Added another new pic from the wedding, this time Rob & Kristen with guests
More NEW Pics Of Robert Pattinson & Kristen Stewart At A Wedding (23rd June)
It feels like we're being drip fed these pics but hey I'm not complaining! Though I wouldn't say no if we eventually got to see some video of Rob doing his thang (I know I'm greedy)
Check out another NEW pic from the wedding that Rob & Kristen attended on 23rd June.
Looks like he's deep in concentration.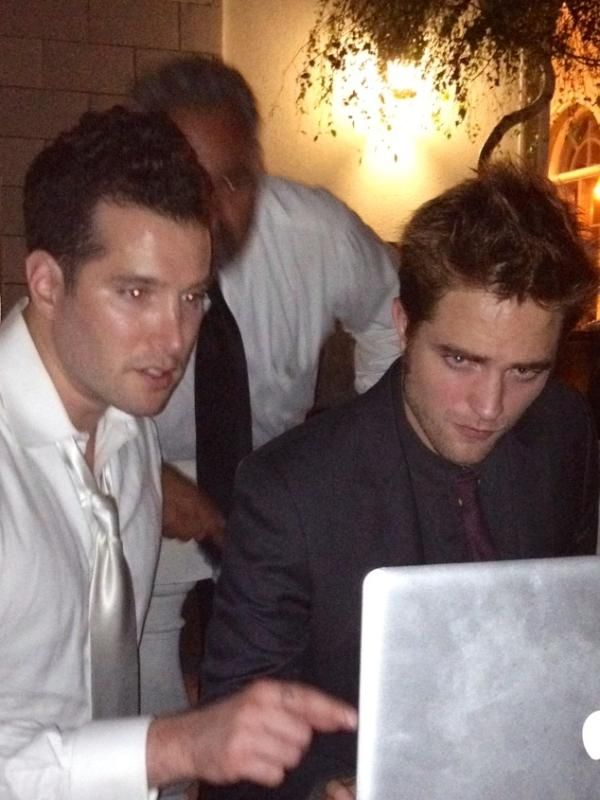 And another new pic
Also this pic (from the post below) now bigger and uncropped
And if you missed the other pics from the wedding check them out
HERE
&
HERE
Larger untagged pic
Source
via
Source
Reports from US Weekly & People Mag After The Cut
From
People:
Kristen Stewart and Robert Pattinson helped a lucky New Jersey couple celebrate their big day this weekend.
The on- and off-screen couple – along with Zac Efron, Andrew Garfield (sans girlfriend Emma Stone) and Will Kopelman (sans wife Drew Barrymore) – made their way to Englewood, N.J., where Hollywood producer Kevin Turen wed Evelina Oboza on Saturday.
"They stuck to each other's side all night," an attendee tells PEOPLE of Stewart, 22, and Pattinson, 26, who partied with guests until dawn and were spotted walking hand-in-hand during the celebration.
And the bride wasn't the only one (likely) wearing something borrowed.
Before heading to the wedding, Stewart realized she forgot her dress. The solution? The Twilight actress strapped on a short, navy Zac Posen cocktail dress from the groom's sister Ashley's closet (that matched her Christian Louboutin shoes just fine).
By the end of cocktail hour, however, she was back in her own wardrobe – jeans, a black tank top and a blazer – as she mingled with fellow guests.
Although Stewart didn't show off the moves she put on display during her Twilight wedding, a date-less Efron, 24, tried his hand at the hora, a traditional Jewish dance, before hanging out with mainly male partygoers for the evening. And Pattinson got in the groove manning the deejay's laptop for a bit.
After spending the night at the groom's house, Stewart headed to Paris for a photo shoot and Pattinson flew back to Los Angeles.
From
US Weekly
Robert Pattinson and Kristen Stewart were among the most-ogled guests at the Saturday wedding of pals Kevin Turen (a Hollywood producer) and Evelina Oboza in Englewood, NJ -- a bash also attended by such Hollywood A-listers as Andrew Garfield, Zac Efron and Drew Barrymore's new husband Will Kopelman, plus New Jersey Senator Frank Lautenberg.
"Rob and Kristen were all over each other," a wedding guest tells Us Weekly, adding that Kopelman, Efron, musician Matt White and Harry Morton were the groomsmen at the wild bash.
Fellow Brits Pattinson, 26 and Garfield, 28, found a unique way to bond with Efron, 24: "There was a little area where you could go and play music," the guest explains. "Rob sang, Andrew played the bongos, Zac played the guitar. It was a whole spectacle!"
(Kate: OK "IF" this happened then I REALLY need to see video of it)
Earlier in the night, the A-list hunks helped groom Turen during the traditional Jewish hora dance, lifting him on his chair as the crowd cheered. For his part, Efron "was rapping towards the end of the wedding. It was hysterical!" the guest raves.
Revelers partied until the wee hours -- 7 a.m.! -- and, the next day, 22-year-old Stewart joined her beau plus Garfield (whose girlfriend Emma Stone had a work commitment) and Efron at the pool on the grounds of the home.
Although Stewart didn't exactly let her hair down as much as the famous men around her, "Kristen is really really sweet!" the guest adds
.
From
Celebuzz
After arriving back in Los Angeles Thursday from press duties in Australia, Stewart, 22, hopped back on a plane to attend a wedding in New Jersey with boyfriend Robert Pattinson, 26.
Kristen was Rob's date to Hollywood producer Kevin Turen's wedding on Saturday. The Twilight stars partied with friends and guests like Zac Efron and Andrew Garfield, but the had couple only had eyes for each other. (Well, duh — of course!)
"Rob and Kristen rarely left each other's sides all night," a wedding guest tells Celebuzz. "They arrived together, and were holding hands while talking with some of [the groom's] family."
Pattinson tried his hand at DJ'ing a bit, as you can see in the photo gallery above, and Stewart looked on laughing as he tried to figure it out.
"It was really cute," adds the source. "When he was done he playfully ran over and grabbed her. They looked so in love! It seemed like they had a really fun night."
It was a long, fun night indeed– the party raged on until the sun came up.
The couple also "kissed and laughed" the night away, but their PDA wasn't obnoxious "just really cute," according to Celebuzz sources.