Robert Pattinson's The Rover trailer coming "soon-ish" + sweet quotes from David Cronenberg & Benedict Cumberbatch!
We have a mini roundup of some film related news. First up is the eagerly awaited,
The Rover
.
It's not a whole lot to go on, but this tease from
The Rover
distributor,
A24 Films
, is welcomed.
@Suziekew @RPattzgirl soon-ish!
— A24 (@A24Films) November 12, 2013
Next, David Cronenberg praised Rob and mentioned
Maps To The Stars
and more in the newest
Toronto Life
. Here's a transcript of the direct Rob mention:
"Rob is a really fine actor. He hasn't been recognized that way. We said, let's do more," Cronenberg told me. It takes a veteran's business savvy to enlist a star of Pattinson's stature, though Cronenberg says he likes to repeat his actors because he wants to work with people who are easy, a lot of laughs. "You've got to have a playfulness, a lightness," he says. "Also, not being an asshole or a drug addict really helps."
These excerpts mention MTTS and the Rob quote: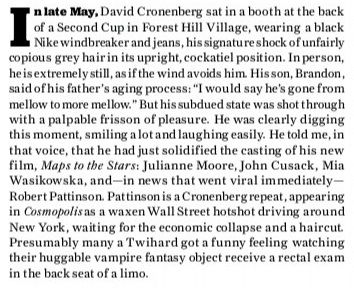 Click the thumbnails to read the full article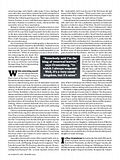 Lastly, this is a great throwback to Golden Globes 2013. Josh Horowitz was talking to Benedict Cumberbatch and fanboyed over Rob possibly being nearby. It prompted Benedict to admit he was a fan! He's even seen
Twilight
. Check it out :)
Can't wait for these guys to work together on
The Lost City of Z
! That's the latest movie news.
Queen of the Desert
is slated to be Rob's next film to go into production (Dec. 15), followed by
Life
,
Mission: Blacklist
and
The Lost City of Z
by summer 2014. Busy man! We'll keep you posted if there are any changes.
Toronto Life
| Thanks S!