ROBsessed Giveaway: Enter THE HOUSE if you dare for a creeptastic October read by Christina Lauren
Everyone loves a scary story right?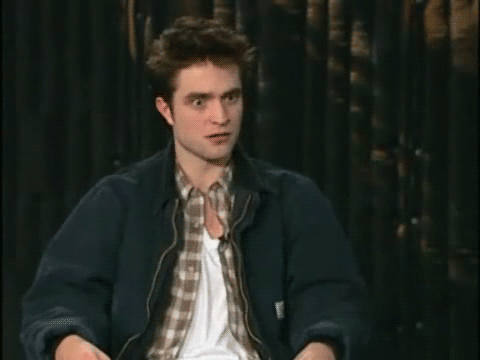 Rob's face is pretty much my reaction. I'm such a wuss and easily frightened by films and books that make it their mission to give you the creeps. Well Christina Lauren is back this fall to freak you the BLEEP out.

Last year, the ladies dived into Young Adult fiction with their creeptastic and eerily whimsical story,
Sublime
. This year, they return to freak-out-fiction and want to make
your
house unlivable with
THE HOUSE
*enter screams here*.
Author, Ransom Riggs, warns, "Don't read it at home alone. Or at night. Or at all if you scare easy." Sheesh! I'll admit, I started and had to stop. I told you. I'm a wuss. I like peace of mind, OK. But for you daredevils out there, maybe you think you can enter THE HOUSE. We'll see. We'll see.
Summary:
His shirt is black, jeans are black, and shaggy black hair falls into his eyes. And when Gavin looks up at Delilah, the dark eyes shadowed with bluish circles seem to flicker to life.
He lives in that house, the one at the edge of town. Spooky and maybe haunted. Something worse than haunted. And Gavin is trapped by its secrets.
Delilah and Gavin can't resist each other. But staying together will exact a price beyond their imagining.
GAH. I can't. *cowers away*
Giveaway Guidelines
You only have to click a button, which you'll see when you enter. Tweeting the giveaway and/or following @ChristinaLauren are optional but gives you more chances to win!
Giveaway is WORLDWIDE!
You MUST enter using Rafflecopter or your entry will not be counted

You can enter once a day, everyday, until the closing date - Friday, Oct. 16th

There will be

2 winners

receiving THE HOUSE by Christina Lauren!
Winners will be chosen by random.org and announced after the giveaway ends
Good luck!!!
a Rafflecopter giveaway
Who won the PLAYING WITH FIRE???
a Rafflecopter giveaway
Congrats Marty and Irmaida! We'll email you to send your prize.
If you want to purchase any of the latest books featured in this post, click the Amazon links to buy now!