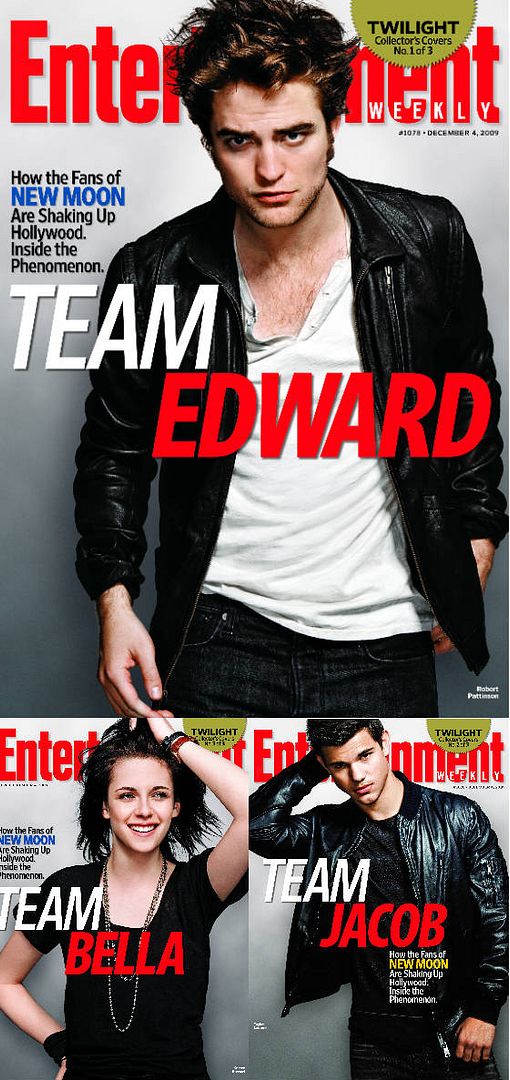 HQ:
The December 4th issue of Entertainment Weekly is out on Firday and has a choice of three different covers Team Edward, Team Jacob & Team Bella.
From
EW
NEW YORK – Hot off the tail of the New Moon pre­miere, this week's Enter­tain­ment Weekly explores the phe­nom­e­non that is the Twi­light series.
Chris Weitz opens the door to his beach house look­ing like a wilted rose. He's unshaven, pale and wear­ing clothes he appears to have found wadded in a ball on his bed­room floor. It's exactly the way you'd expect to find the direc­tor the morn­ing after his movie The Twi­light Saga: The New Moon opened around the world to num­bers no one thought pos­si­ble. But Weitz isn't recov­er­ing from a long night of rev­elry. He's just exhausted. In the last ten days, he's been in more time zones than the sun, on the last stretch of pro­mo­tional duties for his movie. "I'm at the point of phys­i­cal col­lapse," says Weitz, 40. "Hope­fully I will now lapse into obscu­rity. That's my plan."
We can think of 140 mil­lion rea­sons that's not going to hap­pen – all of them dol­lars. On open­ing week­end, New Moon made the kind of money usu­ally reserved for comic-book heroes and boy wiz­ards, break­ing records for mid­night screen­ings and Fri­day box office. More sig­nif­i­cantly, Weitz has made the high­est gross­ing female-oriented movie since James Cameron opened Titanic in 1997. And, with San­dra Bul­lock scor­ing a career best open­ing with $34.5 mil­lion for The Blind Side, he's taken part in one of the most female-driven week­ends in history–one that should wake up what­ever Hol­ly­wood exec­u­tives still under­es­ti­mate the spend­ing power of the purse. Still, Weitz won't make any grand claims for him­self. "The degree of credit I can take is lim­ited," he says. "I'm just the glo­ri­fied conductor."
OK, he's got a point. Those hun­dreds of tween girls, and grown women for that mat­ter, that lined up days in advance of New Moon's Los Ange­les pre­miere weren't sleep­ing on con­crete to see Weitz. They were des­per­ate for Kris­ten Stew­art, Rob Pat­tin­son and Tay­lor Lautner–who, despite the micro­scopic level of scrutiny they're under, still seem to appre­ci­ate their sup­port­ers. "I would rather spend tonight hang­ing with the fans than answer­ing any more ques­tions," said Stew­art at the pre­miere. Pat­tin­son added, "I don't know how the Bea­t­les felt but I imag­ine it was close to this. Very few human beings will ever get to expe­ri­ence the love we feel at Twi­light events." That vis­ceral, obses­sive amour for every­thing in Stephe­nie Meyer's lit­er­ary world has turned a $50 mil­lion teenage melo­drama into an event that knows no geo­graphic bound­aries. The global take for the week­end? $258 mil­lion. Says pro­ducer Wyck God­frey, "It's a world­wide cul­tural phe­nom­e­non that no one could have predicted."
Pop cul­ture has been burst­ing with blood-suckers of late and audi­ences are clearly respond­ing– as evi­denced by the suc­cess of CW's Vam­pire Diaries, HBO's True Blood and a slew of vam­pire nov­els which hit the best-seller lists in the wake of Twi­light. But what Hol­ly­wood has to fig­ure out now is what to do with this audi­ence next. "It's great that the green­lighters in town have real­ized that lit­tle girls go to the movies," say MGM's pres­i­dent of mar­ket­ing Michael Voll­man. "But this genre has worked for­ever. To Sir With Love was an angsty girl movie."
So what will this fickle, yet incred­i­bly devoted audi­ence turn to next? Dis­ney and pro­ducer God­frey think it might be… fairies. They've scooped up Apri­lynne Pike's best-selling young adult novel Wings. New Regency is bank­ing on a new novel from Ann Brashares (author of the Sis­ter­hood of the Trav­el­ing Pants) about a col­lege cou­ple who turn out to be soul mates who've been lov­ing and los­ing each other for cen­turies. And Lion­s­gate is hop­ing tweens line up for an adap­ta­tion of author Suzanne Collin's The Hunger Games, about a dystopian world where teenagers fight to the death. "Some will work and some won't," Summit's co-chairman and CEO Rob Fried­man says of the girl-driven projects. "There will be a lot of imper­son­ators. But it won't be the Twi­light Saga and it won't have the fan base. Twi­light is unique. I've never seen any­thing like it."
Nei­ther has direc­tor Weitz, who's still recov­er­ing. He's defi­antly off the hook for the third Twi­light movie, Eclipse, which David Slade (30 Days of Night) is already edit­ing for release next sum­mer. But what if Meyer and Sum­mit come call­ing again for the fourth and final novel, Break­ing Dawn? The stu­dio still hasn't decided if the book should be one film or two. But if they call, will Weitz answer? "I'd do it for Stephe­nie, Rob, Tay­lor, and Kris­ten. I feel a great deal of grat­i­tude for those peo­ple," says Weitz. "But I don't think I could do another press tour like we did. I just think I would die." Care­ful, you might come back as a vampire.
Enter­tain­ment Weekly also show­cases the Break­out Beau­ties & Beasts of New Moon that have grow­ing fan-bases of their own. The newly anointed stars include Alex Meraz, Dakota Fan­ning, Ash­ley Greene, Chaske Spencer, Michael Sheen, Anna Kendrick, and Char­lie Bewley.
Source
EW
via
newmoonmovie.org