First an extremely cute video from last night (thanks
@KStew411
):
Kristy
was one of the lucky thousands that attended the New Moon fan event in London yesterday. She got some videos but like all videos from yesterday... scream alert!
So she wrote a partial transcript of the event for us. Thanks Kristy!
My favorite part?:
+ When he asked Rob if he ever had any obsessions he said "No, I'd love to have something to just stand and scream at." He then mumbled something like "Well I do scream when I...uhhh...No I was going to say something ridiculous...I would be in court." Kristen was smiling and shaking her head at him. (Gozde: Dude!Don't say stuff like that and kill us here...)
Just sayin' - pictures DO NOT do them justice. Kristen is probably the most beautiful girl I've ever seen in my entire life. She's freakin' tiny! Skin is perfection, I want her legs, cute as hell, very talkative & jokey. LOTS of love for her from the crowd, which she got coy about. Rob...oh Rob. What can I say? Tall, unfairly handsome, adorable, funny, charming, happy (but we all know this) Rob smiles, everyone smiles.
Sadly for my camera there was red lighting on the stage so the pictures are a funny color but still pretty good quality (please try to ignore the overdone fog)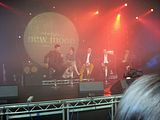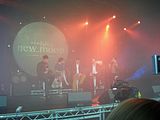 + Rob's first question was something along the lines of : "Did you base your performance of Edward on James Dean?" Can't remember the whole answer but I recall him saying : "I'd be very lucky to play James Dean, I'd love to do that one day"
+ Every time the host (Nick from Radio 1) said Rob's name the crowd went crazy. They joked around and Rob told him to say a different name. He then went on to shout "JOHN! STEVE!" still getting the same reaction from the crowd (obviously)
+ Rob was asked "How has Twilight changed your outlook on life?" He replied, "Hmmmm...uhhh well I guess I have more respect for my name" he then mumbled something about handling women and wearing make-up whilst being giggly and adorable.
+ The host told the fans to shut up at one point and Kristen said, "Hey! Don't you talk to them like that!"
+ Kristen was asked what she would do if she had a few months off. She said "I'd go home. I know that sounds really boring but I'd just do nothing."
+ People (small children) were chanting for Taylor & Rob to "TAKE IT OFF" which was really annoying but then Chris offered to take his off haha <3 *Gotta note that Rob was beaming at her throughout her reply - no I'm not being a weirdo, it was just noticeable.*
+ If Kristen could change Bella in any way she'd "Make her a vampire." *Cue screams*
+ Kristen's favorite scene to shoot was the reunion in Italy. "I enjoyed running towards...*waves hand towards Rob* uhh I don't know if it was my favorite to shoot but it was the one that stressed me out, mmm not the most but second to most was when she finally gets him and pushes him out of the way and then they sort of reconcile the relationship BUT they say nothing. All they have to do is just look at each other and uhh I didn't know how to pull it off like...how do you actually, how do you save the whole movie without saying a whole lot but you know..." *someone from the crowd shouted "YOU KISS HIM!" and she nodded and smiled*
+ He asked Rob what he misses most about London and he said "I miss Battersea Park quite a bit. Uhhhhh I miss...I dunno, I miss the...I miss the Twilight fans!!"*more giggles from Rob*
+ While Kristen talked about throwing grapes into Taylor's mouth she said "It's very satisfying to shoot something into someone's mouth and not have them like...die." *My dirty mind overtook me at this point*
+ Rob was asked what his favorite scene to perform in was. He said "I think my favorite scene was when Edward & Bella broke up. I liked it!" Kristen replied "Me too!" sarcastically. Rob then said (in a strange voice) "I just wanted to see the look on everyone's face!! Devastation!"
+ Kristen said that if she was Bella's friend she would advise her to stick with Jacob if she was smart but then she said "But....really." And waved towards Rob
I really had a blast and it was great to see the interaction between them. They were in such good moods and seemed to have the giggles. Kristen gave the best answers by far. She's a totally different person to who we saw last year, as is Rob (In a good way, of course) he didn't really stop laughing the whole time.