Everything started with a tweet:
@

KatieSue617

is it just me or does it look like somthing is wrong with Rob's left nipple in the clocktower scene?



I didn't notice it, I was looking "somewhere else" in that scene :) But apparently a lot of people noticed Robward's "wonky" mipple (mipple = man nipple). While twitter peeps were discussing this very important "Left Mipple Gate" issue we got another tweet:


RT @PepperMonster He has a tear in his shirt over his left peck & when he takes his shirt off his left nipple has a scar around it
Since we never shy away from investigating crap like this (or looking at shirtless Robward pictures) we dug into our HQ files. Let's look at Robward
when he walks into the Volturi lair:
The shirt is ripped on the left mipple side:
Let's look at Robward when he is taking his shirt off: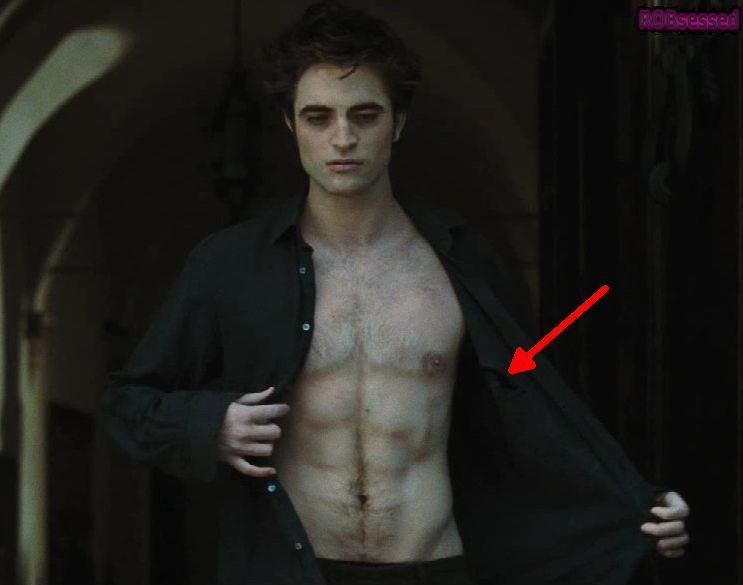 Let's look closer:






*stares dreamily*.....*keeps staring*....*comes down to earth*



Oh! Yep there is definitely something "wonky" about the mipple. Feel free to stare at it to make sure :) I think I'm going to have to see the movie for the 3rd time to REALLY make sure...

My explanation for the "bite mark" was:
Some horny woman jumped him while he was away moping for Bella and she tried to bite his mipple :)

When we thought we solved it with the crazy horny lady theory:
"

@bucaticadinmine

: am I the only one who thinks this doesn't makes sense? nothing harms vampires so what caused that

scar?
"

I was shame faced at not thinking of that but
@TweetsALittle and
lroy6
had the answer:

Vampire bites/venom can cause scars on other vamps! Remember Jasper has lots of them from battle!
Great! So he got into fights with some vamps and they bit his mipple! Naughty naughty vamps! But still, what if the wonky mipple belongs to Robert Pattinson and not Robward Cullenson? Oh the horror!
Well for that we had to dig really deep into the pictures from Italy, the unedited ones: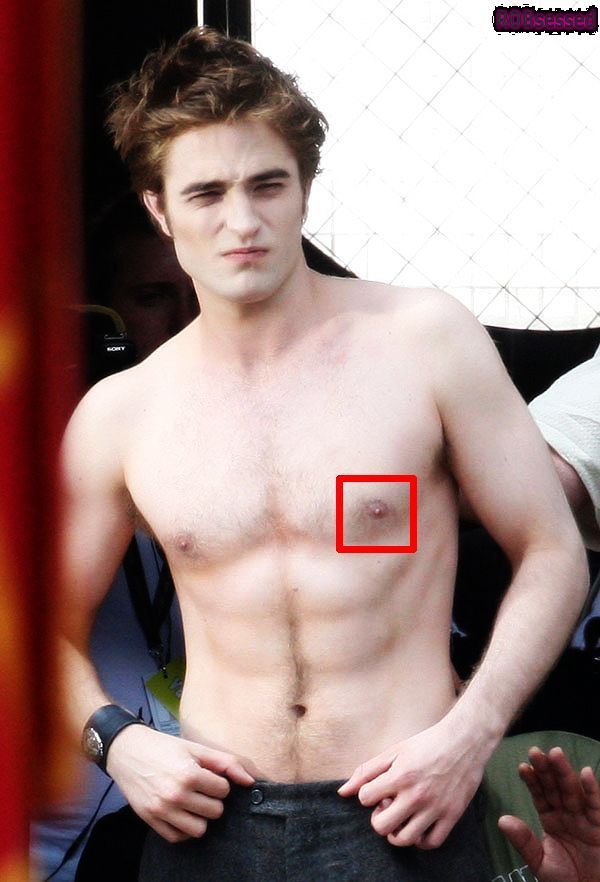 Yep, the mipple is just perfect and it's always been perfect:
We can all sigh in relief now that Left Mipple Gate" is solved :)
Thanks to
PepperMonster,
i_heart_the_doc,
TweetsALittle,
dancn_stacy09,
@
MyraMcEntire,
KatieSue617
,
MeggsT,
bucaticadinmine and
lroy6
for their invaluable input in this very important discussion.