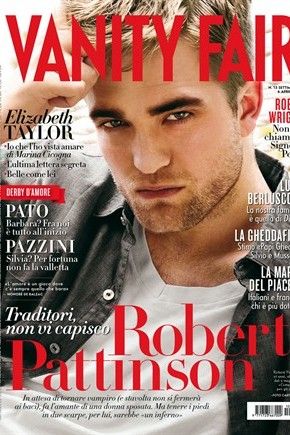 From
Vanity Fair (Italy)
This issue will be out tomorrow
While waiting to come back for working on the Twilight Saga, he is playing the lover of a married woman. But being a cheater for him will be really hard.
You don't have to be smart to understand that, generally speaking, there is worst than became a poster-guy who needs to hide from the fans in a five star hotel room around the world. And it looks like Robert is a very smart guy. But is also looks like, in his everyday life, that he didn't took his destiny from the bright side. He is young (25 years old in May), he has money, success, a job, actor, which half of the world would love to have and all the women whom he could have. But you can see he is not happy.
The reason, I believe, is because he is smart enought to understand that he is not that special. He is still down-to-earth even when the whole world is going crazy for him. That makes him a good person, but so so lonely. I met him a few weeks ago, for the promotion of the movie "Water for Elephants".
Born in a normal English family - his mother working for a model agency, his father used to sell vintage cars - he was going to work on international relations. His role as Cedric in Harry Potter and the Globet of Fire was a lucky event and the same was for the role that was going to change is life: the Vampire Edward Cullen in Twilight.
Water for Ekephants is a romance movie. "What attracted me was the historical period, the great depression, the circus, it's fascinating".
The main plot is however the story between Jacob and Marlena. "Even if at the beginning you are thinking "oh now he comes and sees her, they like each other they run away together" the story is more than that. Jacob is ready to give, not to take. Best relationship ever".
Could you have an affair with a married woman?
"Life is not black or white. There are married people that don't share anything. How can you call that a marriage? There is something I can't even understand: why people cheat?"
You can't understand something that most people do???
"I can understand the impulse, but not how you can maintain a long-standing relationship at the same time. And though I realize that can happen to those who have children, I can't really understand how someone free of any commitment could possible choose to have four women at the same time. it must be like hell for a man"
You don't believe in cheating. What about in the happly ever after, like a movie ending?
"My parents met when my mom was 17 and my father 25, they are still together and seem very happy. I grew up believing that you can be together all life."
The whole interview will be on the next issue of vanity fair out on March 30th
Translation By
@fritzerina
via
Source