Tink re-set the drought timer yesterday with a great pic of Rob out and about in LA. Now we have the full pic... I love it when Rob's pictured with fanboys!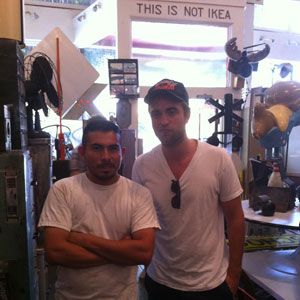 Via LuvMeSumEdward: "So my sister's friend ran into Rob today at This Is Not Ikea in LA, it's some vintage furniture store. Anyway, she just sends this text like no big deal!"

E!OnLine also ran a story after the pic came out - obviously he was there, but the details of his visit I'll take with a tiny bucket of salt.

Robert Pattinson plays an old vampire in Twilight, so it makes sense that he likes old furniture, right?OK, maybe not.
But we did just get word that R. Patz spent a nice chunk of time yesterday shopping at one of L.A.'s most popular vintage stores.

Pattinson and a pal spent more than two hours sifting through the items at T.I.N.I., a two-year-old store just steps away from the Los Angeles County Museum of Art.
He spent almost $550 total on a small green distressed wood bench, an industrial gray desk lamp and a really cool metal pipe floor lamp, according to a source.

And no, Mr. Pattinson didn't mention Kristen Stewart while he browsed and shopped, but the source did say that Rob mentioned that the purchases were for his L.A. area home.
"He took a couple of photos with some other shoppers," the source said. "He was very nice."
Full pic Popsugar via Robstenation