New Pics: Robert Pattinson and Kristen Stewart out and about at Bobby Long concert (July 19)
Visit these sites to view:
Popsugar
|
Just Jared | Gossip Center
UPDATE
: A couple fan pics at the bottom of the post
From
courtjustice
:
Rob's hat is the "Laguna" cap from Stussy, HERE. That's one of his favorite brands. :) Rob's sneakers tonight were the "Old Skool" sneakers by VANS. I'm pretty sure the colorway he has is retired now. Leather version HERE
Thanks CJ ;)
I had the pleasure to attend Bobby's show and see BackwardCapRob for myself. LOVE. I'll share a little more in a bit
..
.
Ok, here's the lil bit from me...
I attended
Bobby
's show last night and he was awesome. Of course. Rob was also in attendance with Kristen and their entourage aka The Wall of Men. I'll come back to that. Rob looked too cute as you probably know by now from pictures (links at the top of the post). The backwards cap look is a winner but there's not much Rob does that ISN'T win. I think everything he does is win so backwards cap wearing is basically my life now (Rob is Oprah).
Rob and Kristen stayed alongside one of the walls of the venue and enjoyed Bobby's soulful tunes. Rob was sipping on a bottle of beer and chatting up Kristen and their posse that was nearby. Fans or crazy people weren't able to ruin their time because there was a Wall of Men that stood between them and the rest of the common folk. I recognized most of them - Rob's assistant/friend, Kristen's brother and manager/friend and the red shirt guy from my Johnny Flynn account. These fellas basically hold down the fort so Rob and Kristen aren't harassed. They had other people in their entourage and after the show, they moved into a private room. Rob would always hold Kristen's hand, leading the way for them. When they arrived and went into the crowd, he led the way. Heading to the private room? Led the way. Leaving the venue? Led the way. So gallant. So MAN. GAH. :D
About an hour after the show, they left. There were rumors about more yada yada yada but I wouldn't invest my brain cells into those accounts. The venue is dim and loud and the private room is...private. It's up to you what you want to believe. I suggest salt though. ;) If you're interested in Bobby Long, he's promoting his new book of poetry -
Losing My Brotherhood
. Click
HERE
to read more about it!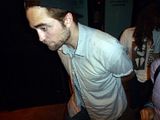 Fan pics:
Source
|
Source
| Via:
Robstenation